Members of the Anglican Military Ordinariate, Sisters and Brothers in Christ from around the Anglican Communion,
The Electoral College has voted, the Chancellor has declared an election, the candidate has accepted, the Metropolitans have concurred and the Primate is now pleased to announce that Colonel, the Venerable, Nigel Shaw is the Bishop Elect of Anglican Military Ordinariate.
Please keep Bishop-Elect Shaw in your prayers as he and his family prepare for his Ordination to the Episcopate on 28 May 2016 at Christ Church Cathedral, Ottawa.
LCdr the Rev'd Canon Jennifer Gosse+,
(view directly on YouTube | Vimeo)
The nominations for Anglican Bishop Ordinary to the Canadian Armed Forces are now closed.  The CVs for each candidate and their responses to the questions provided to each from the Search Committee are available on the nominations page.  The video above was kindly prepared by Archbishop +Fred Hiltz as a message to the Electoral College as well as to the AMO on this historical occasion.
————-
It is happening – the team gathers at Church House.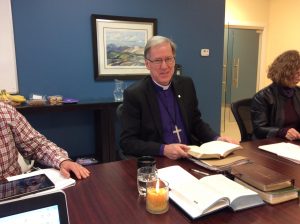 ————-
The Search Committee is pleased to provide the following information to enable the process of the first election of the Anglican Bishop Ordinary to the Canadian Armed Forces.
Call Letter
From Archbishop +Fred…
Dear fellow Bishops and Clergy,
As you all know Bishop Peter Coffin who has served faithfully as the Bishop Ordinary to the Canadian Forces since February 2005 will be retiring from that ministry in 2016.  The Anglican Military Ordinariate (AMO) is therefore presently seeking nominations for a Bishop to serve as spiritual head and pastor to members of the Anglican Church of Canada serving in our military….
References
The following resources are also available as references.  They are the pertinent General Synod Canon and Anglican Military Ordinariate Canon as well as the terms of reference.
Forms
For further information or questions, please contact the AMO Search Committee via the Chair, [email protected] or 613-415-7720.