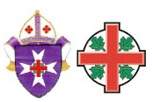 Sisters and Brothers in Christ,
I am writing to you today, having reflected for a few days on the events at General Synod, and having seen some of your heartfelt words posted on Facebook during the tumultuous process that we have all endured. The changing outcome has presented challenges for all of us concerning our understanding of what we believe it is to be church and what it is to live as church in witness to the world.
In light of this, my words to you this day are shaped by the words of our Primate in the days following his election, in which he spoke of our "Beloved Church". We are a church that is, by necessity, broken and wholly dependent on God, and God is present in our midst.  Today we go forward as church, and the only test will be our constancy, our humility to walk humbly with God and with each other in love, and our willingness to seek out God's message for us as we navigate the days and years ahead. It is easy to focus on this one aspect of our lives as a people "on the way" together, but let us not forget the many powerful ministries of our church that continue to exist and which have been celebrated at this synod: the work of our Aboriginal brothers and sisters in healing and reconciliation, the youth ministries, healing ministries, ministries of international outreach and many others that grow out of our common journey together.
Some diocese will, in light of the passage of the motion to amend the Marriage Canon, see the result as permission by God to implement a local option. Others will see the vote in terms of a decision to wait and engage in further discernment leading to the second reading of the Motion at GS 2019. Either way, there will be a time of confusion for our beloved church; both for us at times, as well as for those we serve. I will forward to you a clarification of our own policies following consultation with our Primate which will occur on 22 July. We have much pastoral work to do in the light of the decision that has been made. I have often heard military chaplains say that they stand on the margins of the church through our calling to serve those in the Armed Forces. I believe now, more than ever, that we are called to be central to our church. We have all worked with military personnel who, having survived a skirmish, were still reeling –in some cases, they lost good friends, or in others, loss of hope in the institution that sent them into the fray.  We have walked with them, prayed with them, and in many instances, we have been for them symbols of hope and examples of continuity in the face of their courage and hurt.  Today many faithful Anglicans will be asking if this is the church of which they wish to remain a part. Today, and moving forward, we will encourage them and we will, by our example, draw them close to the God who first called them and continues to love them still. Military Chaplains were made for times such as these.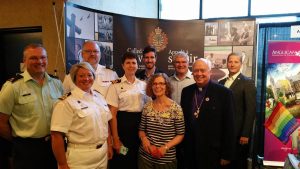 As military chaplains we have forged a community that is deeply respectful of each other and our often diverse and divergent beliefs.  We have accomplished this through love of one another as fellow servants of the Gospel, humility concerning our own beliefs, and by keeping our vision fixed on the ministry that we are called to by our Lord.
And so my friends, my prayers go with you today as always. I pray for your continued encouragement, and for the strength to face all daily challenges in faith and commitment as you so graciously have done in the past. Thank you for the good you do each and every day in service to our Lord.
Yours in Christ,
+Nigel