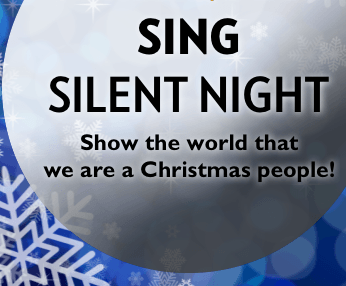 We are so grateful to our Primate for envisioning the 'Silent Night Project' to raise consciousness of the Anglican Military Ordinariate and, by extension, all of the Branch Chaplains and the members of the Forces and their families who we serve and with whom we serve. The proceeds will go towards the Bishop Ordinary Trust so that in the future we might ensure a bishop, at least half time, for the Ordinariate and also some support services.
I am grateful to those chaplains and their people who have produced such excellent and sometimes unusual presentations of this beloved carol. And, of course there are wonderful videos from around our beloved Church. Thank you so much! This project has given us a golden opportunity to share this ministry and the vocation of our military members with the Church.
I am grateful to Padre David Greenwood who has taken the lead within the Ordinariate. He enabled us to come together with Lisa Barry of Anglican Video for some 'clips'; encouraged us to get our own presentations online and simply kept us appraised. It has been a substantial job. Thank you David!  And thank you, Lisa!
We are all grateful to Kristin Jenkins, editor of the Anglican Journal and her staff for a marvellous November issue in which the Ordinariate was featured. Our national church newspaper has been very kind to us as have been all of the staff of General Synod. Special mention must be made of the good people of The Anglican Foundation which administers our trust fund. You might like to become a member. Just check out the website. Archdeacon John Robertson, in charge of General Synod's Planned Giving programme has been a particular support and a blessing. You will note a large advertisement in the November issue for the Ordinariate.
In short, we in the Ordinariate have cause to be grateful to so many for their support and encouragement in this ministry of the Gospel that we share.
The carol 'Silent Night' is indeed beloved and the story of its inception is well known. You may not be familiar with the Christmas Truce of 1915 when both sides of the conflict ceased fire to meet in no man's land much to the chagrin of their commanders. If you check the 'Silent Night' videos and make your way to the Ecclesiastical Province of Canada's video you can hear the story told by Bishop Percy Coffin (Western Newfoundland). You can also Goggle.
May the day be hastened when nights may be silent of the tumult of war; when all is calm and the brightness is that only of the stars. Such nights will be Holy ones.
+Peter
Anglican Bishop Ordinary