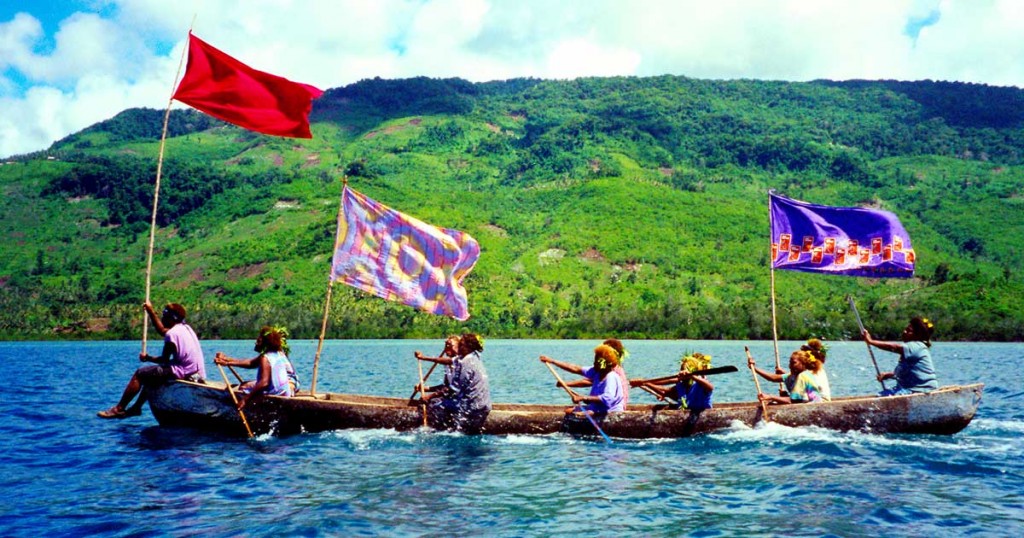 This blog will follow the Primate, Archbishop Fred Hiltz, as he visits the Church of Melanesia, March 15 to 28. The title references the common liturgical practice of using a small wooden canoe to carry the Gospel into the sanctuary. It is an image of how Christianity takes shape in South Pacific culture.
Entries:
Three happy cheers
I woke up this morning feeling like we needed just one more blog post to wrap up our trip. The Primate suggested the title "Three happy cheers" because this is how we were welcomed in many places. These cheers were enthusiatic and loud—sometimes deafening.
"The church speaks the language of reconciliation"
This is Father Sam Ata, an Anglican priest and chair of the Solomon Islands Truth and Reconciliation Commission. Father Ata talked with us today about his work helping the nation learn about, and heal from, the ethnic tensions of 1998 to 2003. The conflict began between people of two islands—Guadalcanal and Malaita—around issues of land ownership, illegal settlement, and employment. Thousands were displaced and more than 100 people killed.
I found a canoe
I have another quick note for today, just to say that I found a gospel canoe. The Melanesian brothers used one at our morning service and when I snuck back to look at it I saw it was painted with these words: "Christ in culture."
Many, many sisters and brothers
When was the last time you met an Anglican nun? Here in the Anglican Church of Melanesia the religious orders are everywhere: approximately 600 members and growing.
Meet Margaret
Margaret Aihunu is one of the top women in the Anglican Church of Melanesia. She's the only woman on the 20-member Cathedral Chapter, the provincial body that makes decisions between national meetings (like our Council of General Synod).
By plane, boat, and tractor
Transportation is a huge challenge throughout the Church of Melanesia. Priests and bishops spend a lot of time and money getting to parishes around the islands, especially in the Diocese of Ysabel, the biggest geographically.
Turning forest into food
It takes a lot of sweat and muscle to turn 15 hectares of dense forest into cocoa groves. For the labourers at the Diocese of Ysabel's Garanga farm, it took a year and a half of chopping down trees and preparing soil with only basic machinery. That started in 2004.
Hard work, not yet done
Our team has had so many adventures on our three-day trip to Santa Isabel Island, where the Diocese of Ysabel is based. Since we had no Internet access there there's a blog backlog, but you can expect more stories later, including a rundown of our various modes of transportation—by boat, tractor, and nine-seater plane. For now, though, we agreed that the theme of self-reliance was a good place to start our stories.
Please pray for these kids
Yesterday we visited the children's ward at the National Referral Hospital, Honiara. Father Ellison Koke, an Anglican, serves there as the only full-time hospital chaplain in the Solomon Islands. He led us around to see some very ill children, who have travelled by boat and truck, sometimes for days, to get to this small and simple ward. Many suffer from meningitis, malaria, or bronchitis. Others are waiting for surgery.
Four steps to welcome a Primate
Earlier on this blog I mentioned a "warm Melanesian welcome"—a hackneyed phrase, one that came easily in my jetlagged state. Happily, I can now explain this better because we've finished day four of our trip and I'm seeing patterns in how we are received at many ministries in the Anglican Church of Melanesia (ACOM)
Nurturing mind, spirit, and body
Question time was officially over but the young man wanted to ask something of Archbishop Hiltz. He was about 16, tall and serious, and he jogged up to the microphone to ask this question before the 700 other students gathered at St. Nicholas School.
That was one amazing offering
In many churches, the presentation of the offering is a solemn affair. Often ushers march two by two, carrying plates of money to the altar before bowing in prayer.