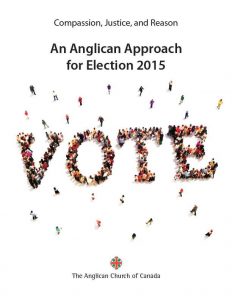 Designed for the 2015 federal election, a non-partisan resource offers support for Canadian Anglicans to engage with parties and candidates on a range of vital issues rooted in shared prosperity and protecting the most vulnerable members of society. The free downloadable resource consists of double-sided sheets on 10 different justice issues highlighted by the Anglican Church of Canada and rooted in the Marks of Mission.
Ecumenical resource
Ecumenical partners, including the Canadian Council of Churches, KAIROS, and Citizens for Public Justice, have developed an election resource focused on 13 issues such as climate change, poverty, and human rights. Use this resource as a companion to the Anglican resource.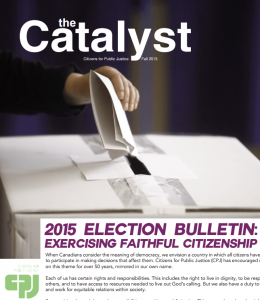 Citizens for Public Justice (CPJ) has released a 2015 Election Bulletin: exercising faithful citizenship. It includes CPJ's public justice analysis, as well as policy recommendations and questions for candidates on: poverty elimination, climate justice, refugee rights, and democracy.