Prison Ministry in the Council of the North is grounded in the power of grace and transformation.
On a snowy Sunday afternoon, following a busy morning in his Iqaluit parish, Rev. Cyrus Blanchet drives to Baffin Correctional Centre.  But he admits that there are days he just doesn't want to go: "Sometimes it just gets tiresome, dragging myself out there on a cold day, going in there with my bag of hymn books and Bible…and the place has a smell to it."  Still, he goes—and he knows he doesn't go alone.  "The good Lord goes with me and before me…I'm trusting the Lord too—that I'm here for his purposes and he'll take care of me. Even when I feel like not going, I go anyway and I'm always glad I did."
Thousands of kilometres southwest of Iqaluit, an Anglican layreader visits Prince Albert's Saskatchewan Penitentiary.  Kathleen Stewart, who worships at St. David's Anglican in P.A., is part of a broader parish ministry: she leads weekly evening prayer at the SK Penitentiary; five other parishioners pick up inmates from minimum security Riverbend Institution for Sun. worship at their church; and Stewart's parish priest goes to Riverbend monthly for Holy Communion.  Stewart also participated in a Truth and Reconciliation Commission visit to the Pen, in which she saw the power of listening and prayer in healing circles.
It wasn't always easy for Stewart to enter "The Pen."  She explains, "When I first entered as a younger person I was working as a photographer. And I was very intimidated then because all I heard was the bars clanking and no one escorted me through."  With a few more years of experience under her belt, Stewart says of her call to prison ministry, "I've never felt threatened…. At first they kind of test you out to see where you are—because if you're not real in the Christian faith, they soon let you know. They have that attitude where they just don't put up with anything that's fake."
In Whitehorse (Diocese of Yukon) the Rev. Martin Carroll, who ministers at Whitehorse Correctional, describes the setting for his work. "Well this is a brand new prison and it's almost like maximum security—there's 600 cameras in this place, everything's electronic keys, they have sensors to track you—it can be intimidating."  For Carroll, one of his main challenges is developing collegial relationships with staff: "So you have to work on that relationship so you can do the work that God has called you into."
What helps these Anglicans see past the sensors, electronic keys, institutional barriers and intimidating "tough guy" behaviours? Haukenfrers, Stewart's priest at St. David's in Prince Albert, says the knowledge that  "Jesus is still in the resurrection and transformation business" keeps him going.
And once they're in, past these hurdles, a diverse ministry—all grounded in a sense of grace—unfolds.  For some, music is key.
Stewart sees a lot of guitars—and hears a lot of country and blues. Theirs is a mix though: she says, "We have done some popular music from Hillsong and that kind of thing, some of them like that, but the ones that come up to the chapel really like to hear the kind of bluesy stuff." She says the former Chaplain used to call one of the lead singers "'the Johnny Cash of the chapel' because he sounded like Johnny Cash—with all the riffs to go along with it."
Blanchet describes a recent service: "A fellow last week, he said he could play the guitar, actually he was pretty good, and he wanted to sing "Nearer My God To Thee"—which isn't really what I expected from him. I thought he'd want to sing something sort of more lively.  But he really knew that one and we all sang that and everybody enjoyed it."
In between guitar riffs and gospel songs, these chaplains weave Anglican worship in several languages, Bible study and personal testimonies.
In Saskatchewan, the services at "The Pen" are varied. Stewart leads an Anglican evening prayer service while they work out a regular schedule of priests to lead Holy Communion. Stewart also builds flexibility into the service structure by using "A Disciple's Prayer Book"—a resource she was given by Bishop Mark MacDonald.  It's one of Stewart's favourite resources since "a lot of them don't speak English very well and of course they're new to prayer so it's a lot shorter than the Prayer Book."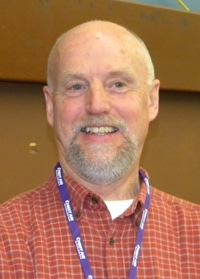 Cyrus Blanchet describes the service he leads at Baffin Correctional: "It's a church service.  When I can, I get someone with a guitar, or if we don't have a guitar, we still sing.  And we have a Bible reading and a message and prayer." Sometimes the service becomes something more interactive: "It sort of borders on being a Bible study sometimes, but it's a church service," he says.
Blanchet's services are a mix of English and Inuktitut.  He explains that while most inmates speak English, only some speak Inuktitut. So the service is mostly in English, with some singing in Inuktitut "because the songs are written in Inuktitut, English and syllabics." Bible lessons are read from the Inuktitut Bible.
Blanchet also tries to include parishioners in the ministry: "There's a couple of fellows in the Inuktitut congregation who come with me from time to time. They're older guys, maybe in their 60s but they will come up with me from time to time. And then when they come, there'll be prayer in Inuktitut—and the people like that because it's their own language, you know, their first language. Blanchet also explains: "There's people in the church I know who have been in jail, they come out with me sometimes.   They've been there and they don't like going out there very much. But they go and help out."
These visits are not always easy for Blanchet and his parishioners: "I have been intimidated a little bit when I'm in there by sort of very aggressive young guys who want to show how macho they are (to the other prisoners mostly)…And they get a little mouthy sometimes. But mostly they say 'Thank you for coming' and want to shake hands.  And they seem to appreciate it." For Blanchet, it's more than worth getting past all of that to the softer side—and sometimes all it takes is a Bible reading or a hymn.
"There's lots of tears over the years I've been there—there's Kleenex out in the middle of the table, and there's different people grabbing that during, just, you know, the subject isn't even particularly emotional, it's just reading the Bible or singing a hymn.  But to them it's emotional because it means something to them.  Or the Holy Spirit is just convicting them or there's something spiritual going on there that's causes the tears." Whether Blanchet finds aggressive behavior or a softer side, he knows he is not alone. "I don't want to get to the point where I feel like I can do it myself, because I think God wants me to trust in Him and depend on Him to do things."
For Carroll, the time he spends visiting with people in prison is likely not the only interaction he will have. "Some of them I know and have met on the street, so we maintain a relationship if they should happen to be charged and incarcerated."  And then, when they're out, the relationship continues.
Blanchet describes a young woman that was at the Women's Correctional Centre: "She's probably 22, 23—I saw her in church just last Sunday or the Sunday before.  I was leaving church and she was sitting there and she looked familiar.  She was there before the Inuktitut service started, so of course I said 'hello' to her; she was quite friendly—seemed glad to be recognized and spoken to and I think she's trying to turn over a new leaf." Blanchet says, "I know I've met her on the street a couple of times in the store, and on the street another time and she said she wanted to volunteer at the soup kitchen.  So she wants to do well."
For these northern Anglicans, ministry in their local prisons brings home the power of the Gospel.  Haukenfrers reflects, "Was there a crime? Typically yes. Is there guilt and brokenness? Yes. Is there sadness and anger? Yes. Is there injustice and fear? Yes. Is there Hope? Yes, there is hope."

TRC visit to Prince Albert Penitentiary
Kathleen Stewart, layreader and prison minister in Prince Albert, SK, says the Truth and Reconciliation Commission's visit to SK was a transformative event.  She says, "Bishop Michael [Hawkins] came in and they did a circle with the elders from Truth and Reconciliation as well as the cultural group.  We all came together and they were telling the stories of course in privacy with the elders but at the same time we were there to pray with them and to talk with the inmates."
Stewart describes one participant: "This particular fellow was kind of down and withdrawn a little bit beforehand—his whole body demeanour, almost like he walked with his head down and didn't want to face anyone or anything, kind of sad all the time. I know he had been coming  to chapel for healing before.  But when he came back to chapel the next time it was almost like there was sunshine in his eyes and he walked up straight and tall.  Even though there was still a little sadness at some particular times, there was almost a new stature about him—he was able to hold his head up, he was smiling, he was positive, you know? That transition that we talk about—being 'made new'?  That was evident within a couple of days after that Commission.  It was just incredible…. And the good news is that I haven't seen him since [his release].  They're transformed enough that they can move on then—and I pray that that's continuing in his life, wherever he is."
Sharon Dewey Hetke
Council of the North Communications