General Synod's departments of Financial Management and Information Resources announce the publication of Step by Step, a narrative budget for 2006.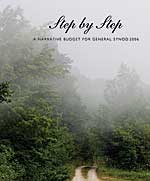 The publication includes a detailed analysis of the past, very difficult year for General Synod, and of where the church is heading in the new year, prepared by General Synod Treasurer Peter Blachford.
A narrative budget is an approach to presenting financial information geared primarily for people more interested in understanding where money comes from and how it is spent than in detailed figures.
Step by Step includes revenue figures for all of the church's major sources of income as well as expenditure figures for all General Synod departments. The emphasis, though, is on a prose, plain-language description of where the money comes from and how it is spent.
This year's edition also includes comparable figures for 2005 in order to demonstrate financial changes between last year and the current year.
Mr. Blachford said he hopes that this resource will gain wide distribution and help all Canadian Anglicans better understand how the money and resources they contribute to the church are used.
Step by Step will be included as an insert in the Winter, 2006 Ministry Mailer which is going out next week.
Online and PDF versions of the publication can also be viewed or downloaded from the Web at www.anglican.ca/stepbystep or the 36-page booklet can be ordered from General Synod Communications by contacting Josie DeLucia, Assistant to the Director of Communications, 80 Hayden Street, Toronto, Ont., M4Y 3G2; 416 924 9199 ext. 294; [email protected]
---
Interested in keeping up-to-date on news, opinion, events and resources from the Anglican Church of Canada? Sign up for our email alerts .