ACT International has launched a $5 million appeal to meet the increasing demands for humanitarian relief for 1.3 million people in Myanmar (Burma) and a $1.5 million appeal to assist 8,000 families in central China in the wake of a devastating earthquake.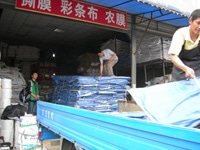 The Primate's World Relief and Development Fund (PWRDF) is receiving donations through its website, parish offerings and direct phone calls to the PWRDF office, and processing those donations through Action by Churches Together (ACT), ensuring that they will reach the appropriate partner organizations in Myanmar and China.
Myanmar
Despite humanitarian access and logistical challenges, members of ACT International, have already mobilized resources through local organizations, providing clean water, emergency food and non-food items to more than 100,000 people in Myanmar.
"ACT members have a long history of work with local organizations in Myanmar. It is through the strength of these organizations that ACT members will continue to provide the much needed relief to families braving the aftermath of this major disaster," said ACT International Director John Nduna. The donations will help provide up to 1.3 million people with safe water through the rehabilitation of 5,000 water points, emergency shelter for up to 340,000 people, along with at least 10 days of food aid for up to 68,000 people. Members are also planning distribution of non-food items for up to 112,000 people.
The catastrophic effects of Cyclone Nargis are becoming more apparent with each passing day since the devastating storm struck nearly two weeks ago. As of May 20, official figures put the death toll at 77,738 with at least 55,917 people still missing. The United Nations (UN) reports that up to an estimated 2.5 million people are in need of urgent aid across southern Myanmar (Burma) and that without assistance, the loss of life will likely continue.
China
The magnitude 7.8 earthquake in central China has resulted in a severe human cost, including at least 19,500 dead and 102,100 injured persons. With immense damage to infrastructure, an estimated 3.5 million homes are destroyed. In some areas, 80 percent of all buildings have collapsed. Impassable roads have delayed doctors and other emergency workers from reaching the most affected areas, while heavy rainfall and power outages continue to slow the rescue efforts. And while approximately 130,000 military personnel are assisting the local emergency response and the transit of relief materials has begun, the needs continue to be great.
Amity Foundation, a member of ACT International, is responding to the emergency and has deployed staff to the region. While coordinating its response with its local partners, Amity is focusing its assistance in the severely affected provinces of Gansu, Sha'anxi and Sichuan. Amity plans to provide 16,000 of the most vulnerable people with food support to sustain them through the immediate shortage. In addition, Amity will distribute 8,000 tarpaulins and quilts to help families protect and shelter themselves from the elements.
Following the initial crisis phase, Amity will assist in rebuilding communities, including 600 homes, 10 schools and 5 clinics. Other rehabilitation assistance will target destroyed or severely damaged water and irrigation systems.
For more information contact Keith Knight by email or phone (416) 924-9199.
---
Interested in keeping up-to-date on news, opinion, events and resources from the Anglican Church of Canada? Sign up for our email alerts .