It was a hot day in Havana when Rebecca McLeod, a nursing student from Charlottetown, P.E.I., boarded a bus packed with Cuban youth. When the bus revved up, her fellow travelers pulled out a guitar and a hand drum, then launched into a 90-minute concert of folk music, all the way to their waterfall destination.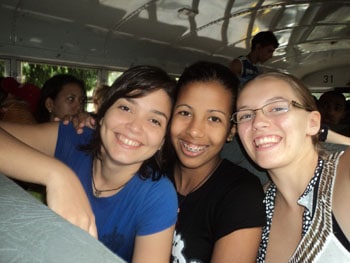 "It was the best bus ride of my life," laughed Ms. McLeod.
From Aug. 6 to 15, Ms. McLeod, 20, attended a diocesan youth camp in Cuba. Her trip added another link in the longstanding partnership between the Anglican Church of Canada and the Iglesia Episcopal de Cuba.
The formal relationship is this: since the Cuban church is currently not in a province of the Anglican Communion, the Canadian church assists with governance. The Canadian Primate, Archbishop Fred Hiltz, chairs the Metropolitan Council of Cuba, which also includes the leaders of the Episcopal Church and the Church of the West Indies. Archbishop Hiltz and the General Secretary, the Ven. Dr. Michael Pollesel, visit Cuba yearly for the diocesan synod. They also speak monthly with the diocesan bishop, the Right Rev. Griselda Delgado Del Carpio.
Out of this arrangement, deeper partnerships have grown. Thus, an invitation to the youth camp found its way to the inbox of Ms. McLeod, who had recently learned Spanish (and caught the travel bug) during a nursing practicum in Mexico. She applied for funding and the trip came together quickly.
"The day before I left, I began to panic," she said. "I'm the only Canadian going to a group of 80 or 85 Cubans. What am I going to do?"
But once in Havana, Ms. McLeod was embraced into camp culture. She stayed in the dorm, ate Cuban food, and studied the Bible with young people from across the island.
It was exciting for Ms. McLeod to observe Anglican similarities and Cuban differences. Familiar choruses had a new Caribbean swing. Baptisms were also splashier. In P.E.I. she was used to a light drizzling of water over the baby, but in Cuba, the bishop doused the baby with handfuls of water, leaving the two of them happily soaked.
During time off, Ms. McLeod's new friends showed her sights off the beaten tourist path. They rode city buses and ate at local cafes where they thanked God before any food or drink was consumed. Ms. McLeod remembers their toasts to "Friendship, love, peace, and our heavenly Father."
She admired their public witness. "You could really see God in these people and in the work they did," she said. "Even though they didn't have a lot of money they were still doing all they could to share and worship together."
Ms. McLeod learned much about the economic disparity between Canada and Cuba. Her friends spoke about the low value of the Cuban national peso, the currency most often used for salaries. The camp fee (approximately $2 CDN) was hard for many to pay.
Thanks to her diocese, Ms. McLeod was able to bring a financial gift for the camp, one of many gifts that have flowed through the Anglican Church of Canada for diverse Cuban needs—from theological education to vehicles for ministers.
"It's important for us as Canadian Anglicans to get an understanding of what life is like down there, including the hardships," said Archdeacon Pollesel.
"These visits are also important for Cubans so that they don't feel as isolated. They can know that we care and want to make it better for them in any way we can."
Ms. McLeod is now sharing her story in her diocese and home parish of St. Paul's Anglican, Charlottetown. Her trip was funded by the Diocese of Nova Scotia and Prince Edward Island's social justice sub-committee and Lay Legacy Leadership Committee as well as the Lois Richards Fund of St. Paul's Anglican.
For more information about the Canadian-Cuban partnership, contact Dr. Andrea Mann, global relations coordinator, by email or phone (416) 924-9199 ext. 265.
---
Interested in keeping up-to-date on news, opinion, events and resources from the Anglican Church of Canada? Sign up for our email alerts .