Jenny Salisbury is excited about her summer plans: "We're creating a motley, merry band of players that is going to travel across the country." The Toronto-based playwright, director, and Anglican youth minister is directing Roots Among the Rocks, an ecumenical theatre project that will gather seven young performers to live in community, create a play, then take it on the road between May and August.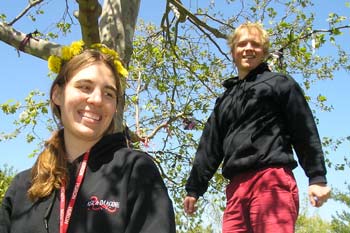 Ms. Salisbury and Lutheran co-director Peter Reinhardt are recruiting the merry band (of Anglicans, Lutherans, and other Christians) from now until Feb. 28. The play will be developed in May and launched at General Synod next June in Halifax, N.S. The actors will spend July and August touring across Canada, with stops planned in Winnipeg, Saskatoon, Sorrento, and other places.
The play, Roots Among the Rocks, will examine how Christians can find life, faith, and authenticity in an ever-changing world, said Ms. Salisbury. The selected artists will build the show using a process called collective creation, where they draw on their own stories, group improvisation, and interviews.
"Our church is very much at a place of change," explained Ms. Salisbury. "It's at a place of trying to find its voice in a new world and its voice in a new century, and we wanted to bring together young people to create a show that's speaking about their experience of faith." The Generation: Young Canadian Anglican website explains that the play is not "an acting out of bible stories, a sharing of testimonies, or an evangelical mission."
It's not a bad summer gig. Roots Among the Rocks artists will receive a salary, and their room, board, travel, and most food will be covered from May 1 to August 26. Performers will also take a three-week break at the end of July. All this can happen thanks to funding from Huron University College, private sponsors, foundations, and most significantly, the Ask & Imagine program, which runs in cooperation with Huron in London, Ont.
Ask & Imagine is in many ways the creative crucible for Roots Among the Rocks. It's a 10-day leadership development program for Anglican and Lutheran youth and leaders that runs twice a year in London, Ont. 2009 marks the 10th anniversary of Ask & Imagine, so the organizers decided to organize this theatre tour as their first-ever alumni project.
Ms. Salisbury is one of these Ask & Imagine alumni, now the assistant program director. She describes herself as a cradle Anglican who attended several parishes and synods before deciding, in university, that she was going to leave the church. Her youth worker directed her to Ask & Imagine, where she lived in community, learned about theology, and had a chance to ask tough questions about faith.
"It wasn't a light-in-the-darkness kind of conversion experience by any stretch," she said. "But it started a series of questions that kind of led me back into a life of faith, which was fantastic and I'm grateful to [Ask & Imagine] for it."
Roots Among the Rocks will be another space for young adults to express this kind of honesty. "We want to talk about experiences of young people from the church that have fed them, and experiences of young people from the church that have broken their faith or been challenging for them," said Ms. Salisbury.
Interested young adults 18 and over can apply to Roots Among the Rocks until Feb. 28. The application process info sheet and questionnaire can be downloaded (both Word documents), and auditions will be submitted as YouTube videos. Contact Jenny Salisbury for more information, either by email, or call (416) 483-6664 ext. 40.
---
Interested in keeping up-to-date on news, opinion, events and resources from the Anglican Church of Canada? Sign up for our email alerts .