A service marking 70 years since the ordination of the Anglican Communion's first woman priest will be held in London, England.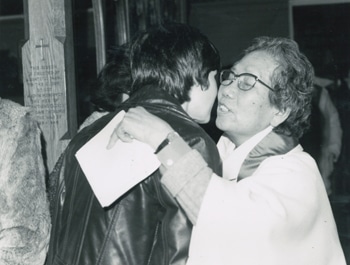 The event — at St Martin in the Fields Church, Trafalgar Square, on Saturday 25th January — has been organised by members of a foundation set up to honour Reverend Dr Florence Li Tim-Oi's legacy.
Already appointed as a deacon to serve in the colony of Macau at the Macau Protestant Chapel, Dr Li Tim-Oi was ordained a priest on 25 January, 1944 by Bishop of Victoria Ronald Hall. His decision to do so came in response to a crisis among Anglican Christians in China caused by the Japanese invasion.
Since it was to be thirty years before any Anglican church regularised the ordination of women, her ordination was controversial and she resigned her licence (though not her priestly orders) after the end of the war.
Dr Li Tim-Oi was put in charge of a parish near the Vietnamese border, where she started a maternity home to ensure that unwanted baby girls were not smothered at birth.
For 30 years in Maoist China, Li Tim-Oi was unable to exercise her priesthood openly, or even express her Christian faith. Later, however, she was able to resume her ministry.
She eventually moved to Toronto to join family members, where she lived until her death in 1992.
Two years later, the Li-Tim-Oi Foundation was set up to enable women in the two-thirds world to be trained for Christian work in their own countries. Since then the Foundation has given more than £750,000 in grants to over 350 women in countries including Brazil, Fiji, Kenya, Pakistan, Rwanda, Sudan, Tanzania and Uganda.
One of the first alumnae of the Foundation, the Revd Canon Dr Edidah-Mary Mujinya, now President of Mothers' Union in Uganda, will preach at the service and the Revd Frances Shoesmith, a granddaughter of Bishop Hall, will preside.
The service begins at 11am and is open to all.
For more information about the Li Tim-Oi Foundation visit www.ittakesonewoman.org
Note: St. James' Cathedral in Toronto will be holding a special service in honour of Florence Li Tim-Oi at 3pm on January 25, 2014. Bishop Linda Nicholls will be celebrating, and Archbishop Colin Johnson will bring greetings on behalf of the Diocese of Toronto.
The service is being planned with clergy from the dioceses of Toronto, Huron, and Niagara, as well as Renison University College, the Anglican college at the University of Waterloo.
---
Interested in keeping up-to-date on news, opinion, events and resources from the Anglican Church of Canada? Sign up for our email alerts .