Emergency relief for survivors of the devastating tsunami in Southeast Asia is reaching people in need, said Elsa Tesfay-Musa, refugees and emergency relief co-ordinator for the Primate's World Relief and Development Fund.
In India, Sri Lanka and Indonesia, members of Action by Churches Together (ACT) International, of which PWRDF is a member, are offering churches as places of refuge, running emergency feeding programs and distributing food, clothes and other essential items to the most affected areas.
As of Jan.17, Anglican dioceses and parishes have donated more than $576,000 to PWRDF and more is still coming in, said Naba Gurung, PWRDF's development associate, Asia/Pacific global and emergencies.
PWRDF responds in two-ways, through ACT International mechanism mainly for immediate relief efforts and also through regional and local long-term partners for long-term development projects, said MsTesfay-Musa.
Some of PWRDF partners in Tsunami hit countries are:
National Christian Council of Sri Lanka (Sri Lanka)
Movement for National Land and Agricultural Reform, Sri Lanka
Gami Seva Sevana (Rural Development Centre), Sri Lanka
World Solidarity Forum for Justice and Peace in Sri Lanka
Sathkorale Sadaham Kendra (Interfaith Peace-building Organization), Sri Lanka
Organization for Eelam Refugees Rehabilitation (OfERR), India
Church's Auxiliary for Social Action (India)
On Jan 4, PWRDF designated $80,000 for tsunami response; this included a grant of $50,000 to the global emergency relief appeal that is coordinated by ACT International, and $30,000 fro PWRDF partners for long-term development programs in the affected areas.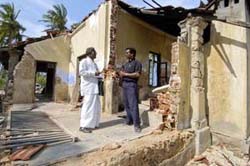 Recently, the Canadian International Development Agency (CIDA) added PWRDF to its list of agencies whose contributions will be matched by federal funds.
However, after consultations with other ACT member churches here in Canada, "we agreed to submit a joint ecumenical application to the matching of funds program, because we are all ACT members and that is one of the criteria we all were approved into the matching program," said Ms Tesfay-Musa. "We hope to send in the joint proposal by end of March," she said.
People throughout the world have been moved by the tsunami devastation as is evident by the overwhelming response to the disaster. However, this has raised awareness of other world emergencies, said Ms Tesfay-Musa. "People have been phoning in to ask us about other emergencies like the Darfur crisis and the HIV/AIDS pandemic," she said
Most of the callers were concerned that the wide coverage of the tsunami disaster by the world media might overshadow other world emergencies.
For further information related to PWRDF tsunami response please contact:
Naba Gurung
PWRDF's, Development Associate, Asia/Pacific global and emergencies.
Tel: 416-924-9199 ext.321
Email: [email protected]
Or Visit the PWRDF website:
www.pwrdf.org
---
Interested in keeping up-to-date on news, opinion, events and resources from the Anglican Church of Canada? Sign up for our email alerts .