On Sept. 25, Canadian Anglicans and Lutherans, along with ecumenical partners, will march in Ottawa, Ont. to urge the Canadian government to meet their commitment to the Millennium Development Goals (MDGs). The "Walk of Witness: Bringing it Home" was inspired by a July 24 walk in London, England, when 1,500 bishops and others marched in support of the MDGs as part of the 2008 Lambeth Conference.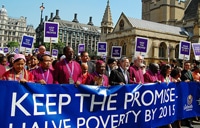 The MDGs are eight goals that United Nations member states agreed to in 2000. These goals aim to improve the lives of the world's poorest by 2015:
Eradicate extreme poverty and hunger
Achieve universal primary education
Promote gender equality and empower women
Reduce child mortality
Improve maternal health
Combat HIV/AIDS, malaria, and other diseases
Ensure environmental sustainability
Develop a global partnership for development
Archbishop Fred Hiltz (Anglican Church of Canada) and National Bishop Susan Johnson (Evangelical Lutheran Church in Canada) called for Sept.25 prayer and action in a letter. "The…event and action are part of a larger initiative to mobilize churches around the ongoing scandal of global and national poverty," they wrote.
Archbishop Hiltz and Bishop Johnson also announced that the Walk of Witness will include worship at Christ Church Cathedral and will end with a joint statement that they will deliver at the UN Association Office. More details of the walk will be announced on the Walk of Witness website.
"It's very Biblical," said Bishop George Bruce of the Diocese of Ontario. "The prophets of the Old Testament kept reminding the people of Israel they have a responsibility for the poor. Jesus in Luke 4 when he's quoting from Isaiah 61 says 'I came to bring good news to the poor and broken-hearted, to bind up the sick and the suffering,' and so the church has a responsibility to do that."
Bishop Bruce marched in Lambeth and will march again in Ottawa, along with Debra Fieguth, the diocesan social action ministry coordinator, and other representatives from the Diocese of Ontario. The diocese has been involved in advocating for the MDGs, and will hold a prayer vigil that day. Bishop Bruce also invited his local candidates for election.
The Walk of Witness coincides with a Sept. 25 high-level United Nations event to evaluate MDGs progress, and was planned before the announcement of a Canadian federal election. Organizers hope, however, that voters will engage their candidates for office on this topic. Already resources are available for voters to foreground poverty as an election issue.
Many other resources are available on the Walk of Witness website, including a bulletin cover and insert [PDF], prayers of the people, and a list of external websites with more information about the MDGs.
Bishop George Bruce hopes this march will inspire further action around the MDGs. "I think we can maybe act as a catalyst for other Christians and other faiths," he said. "This is not just a denominational issue, it's an international world issue."
Interested in joining the Walk of Witness? For more details on the specifics of the walk, or how you can be involved from afar, keep up with the website.
---
Interested in keeping up-to-date on news, opinion, events and resources from the Anglican Church of Canada? Sign up for our email alerts .