Being part of the worldwide Anglican Communion means sharing the joy and pain of other churches—even when they're halfway across the world.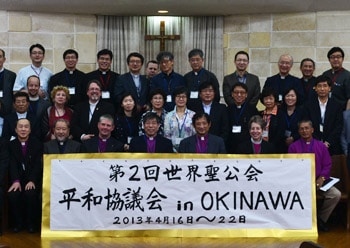 Solidarity was the main motivation for Dr. Andrea Mann, General Synod's coordinator for Global Relations, when she attended the second Worldwide Anglican Peace Conference in Okinawa, Japan, April 16 to 22.
The conference was "worldwide" in that it was open to international participants. Yet the focus was on the domestic contexts of conference co-organizers: the Japanese Anglican Church (Nippon Sei Ko Kai) and the Anglican Church of Korea.
"It has been a positive experience for churches in the region to be given a platform," said Dr. Mann. "[It's also] an opportunity to educate others and feel that people are in solidarity with them."
The first Worldwide Anglican Peace Conference—known as "Towards Peace in Korea"—was held November 2007 in Seoul, South Korea.
In Korea, Anglicans are working for the peaceful reunification of North and South Korea, even as North Korea threatens war. In the meantime, Anglicans in South Korea provide humanitarian aid to North Koreans.
In Japan, Anglicans have worked to help those affected by the Great East Japan Earthquake and the nuclear power plant meltdown.
In Okinawa, Anglicans joined other residents in challenging the presence of 32 U.S. military bases, which many view as an unnecessary and intrusive holdover from World War II.
At the Okinawa meeting, Presiding Bishop Katharine Jefferts Schori of the Episcopal Church gave a keynote address on how churches can respond to this crisis.
She acknowledged that Okinawa had been "treated as a colony for centuries," and encouraged Christians to realize that "[o]ur task can be none other than challenging military responses to fear with non-violent and peaceful approaches."
Some eighty conference delegates attended from Anglican/Episcopal churches in Korea, Japan, the Philippines, Australia, Canada, the United States, the United Kingdom, and Ireland.
At the conference, delegates shared stories, learned about the local Okinawa context, and heard greetings from Archbishop of Canterbury Justin Welby.
In a concluding communique, participants called for the creation of an East Asia peace network, and the ongoing support of churches seeking justice in the region.
During the conference, Dr. Mann presented key peace and justice issues for Canadian Anglicans. She shared how Canadians have led the revision of the fourth Mark of Mission, so that it now includes references to peace-making and reconciliation. She also highlighted domestic work such as the Truth and Reconciliation Commission and international commitments.
For example, the Anglican Church of Canada has committed to hold Canadian extraction industries accountable for their work in other countries—especially in the Philippines.
Close ties exist between Anglicans in these countries. General Synod has a longstanding covenanted relationship with Anglican and ecumenical partners in the Philippines and there are currently opportunities for Canadian Anglican dioceses to pair with dioceses in this country.
Dr. Mann says she expects that a third worldwide peace conference will be announced soon. She also hopes for future partnerships between the conference and the Anglican Peace and Justice Network, where she serves on the steering committee.
---
Interested in keeping up-to-date on news, opinion, events and resources from the Anglican Church of Canada? Sign up for our email alerts .