Celebrating and giving thanks for a bountiful harvest is one of the world's oldest holiday customs. People throughout the world set aside certain times of the year to give thanks.
Thanksgiving or harvest holidays coincide with when the harvest occurs in a particular country. For instance, India's rice harvest festival, Pongol, is held in January, and Nigeria's New Yam Festival falls in July or August.
For other cultures celebrating the harvest is considered a sacred time. In Swaziland the ceremony known as Incwalais the most important traditional holiday. It not only celebrates the harvest, but it is also a national holiday that binds the nation of Swaziland to its king.
Canadians trace the thanksgiving holiday to a feast held by Martin Frobisher in Newfoundland in 1578, but the first official Canadian Thanksgiving Day was celebrated on April 5, 1872 in gratitude for the Prince of Wales' recovery from an illness. It was only in 1957, that the Parliament declared the second Monday in October as "a day of general Thanksgiving to Almighty God for the bountiful harvest with which Canada has been blessed."
This coming weekend, Oct.7-10, people across Canada will celebrate Thanksgiving. Families and friends will get together to bounteous feasts of turkey and other foods. Churches will be decorated with squash and pumpkins, vegetables, corn, grapevines and other produce.
Diocese and parishes will remember the less fortunate in their communities and hold Thanksgiving dinners at shelters and soup kitchens and also give a little extra to their local food banks.
However, in most countries, a bountiful harvest is only now a dream. According to the latest statistics from the UN Food and Agriculture Organization (FAO), more than 800 million people around the world are chronically hungry, and of those 300 million are children.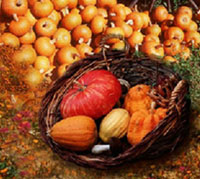 World Food Day (Oct.16) challenges Canadians celebrating Thanksgiving to think of those less fortunate in other parts of the world.
Although World Food Day marks the date of the founding of FAO, in 1945, it aims to increase public awareness of the world food problem and strengthen solidarity in the struggle against hunger, malnutrition and poverty.
It also notes that, "food is a requisite for human survival and well-being and a fundamental human necessity."
In a recent book published by Augsburg Fortress Publishers, Ending Hunger Now: A Challenge to Persons of Faith, Christians are challenged to be in the forefront in the fight against world hunger.
As Mahatma Gandhi said, "To a hungry person God can appear only as a piece of bread."
For Thanksgiving events taking place in Diocese and Parishes please visit their respective websites.
For information on World Food Day, please visit FAO's website: http://www.fao.org
---
Interested in keeping up-to-date on news, opinion, events and resources from the Anglican Church of Canada? Sign up for our email alerts .