On March 31, Ellie Johnson will retire from a job that fits her to a T.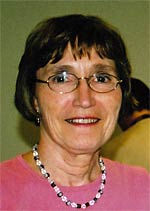 "Her title 'Director of Partnerships' is quite appropriate," said Archdeacon Jim Boyles, former General Secretary of General Synod, who worked closely with Ms. Johnson for many years. "Not that she directs, but she believes in, nurtures, and develops partnerships."
And as Ms. Johnson herself puts it, "This job has included all the things I'm really interested in, on top of which, it has been ever-changing, so there's never time to get bored!"
She has spent 21 ever-changing, un-boring years at Church House. Since 1994 she has led Partnerships, a department that covers residential schools healing projects, mission and justice work, and grants to overseas partners. Over the past 12 years, Ms. Johnson has guided this department through some major transitions: when she began as director, Partnerships was divided into Canadian and international work with a combined budget of around $4 million and a staff of 12. Now the integrated department has an annual budget of $2 million and a staff of eight.
Her work for General Synod has also taken her abroad, from Switzerland to the Solomon Islands, on various trips and consultations to maintain partnerships throughout the Anglican Communion and to work on defining what it means to be a church in mission today.
Early love for cross-cultural experiences
Eleanor Jean Johnson, born in Toronto in 1942, knew early on that she wanted to travel. At 14, she read a book about German doctor Albert Schweitzer and decided she wanted to go to Africa. Later at McGill University she first finished a Bachelor of Education degree, then went on to an MA in anthropology, a subject that she said "absolutely thrilled" her.
Throughout these student years she began to feed her travel bug. She led a few summer camps in Germany, worked with students to build a school Senegal, and went on a research trip to Barbados, which then led to a trip to Trinidad, where she met and dated a young British horticulturalist, Tim Johnson, who also wanted to travel to Africa. They were married the next summer and off they went to Kenya.
The Johnsons spent 18 years living overseas, with various stints in Kenya, Nigeria, Honduras, and a sojourn at the University of Michigan, where they both earned doctorates. Their three daughters?Emily, Sekoia, and Kate?were born in Kenya, the United States, and England, respectively.
When the family decided to return to Canada in 1982, Ms. Johnson, who had been teaching high school, remembered in a dream that churches hired lay people to do Christian education. The Johnsons had been attending Anglican churches overseas, so when they moved to Fredericton, N.B., Ms. Johnson found a job as a Christian education coordinator at an Anglican parish, where she ran adult Sunday school, youth groups, and vacation Bible programs.
But the travel bug didn't stay dormant long. One day Ms. Johnson read a job posting with General Synod's World Mission department: "As soon as I read it I thought, 'Oh, I've got to get connected with this international work again,'" she said.
From paternalism to partnership
Ellie Johnson has worn many hats at General Synod: Mission Education Coordinator, Associate Director of World Missions, interim General Secretary, and Director of Partnerships. In all these jobs her vision has been to move the church from old paternalistic attitudes of cross-cultural engagement towards partnership.
"That's what mission education has been about for the last 20 years or more?helping people?pushing and shoving and dragging people?to let go of their paternalistic attitudes and understand that we are all dependent on each other," she said, "We have mutual responsibility and we all need to be helping each other as we go through life and walk with Christ."
Archdeacon Boyles remembers how Ellie Johnson persisted in upholding partnerships through some challenging times in the church, including the residential schools settlement process. Ms. Johnson served as the church's representative to the federal government on residential schools issue beginning in 2005.
"Sometimes it seemed that the goal was to deal with the survival of General Synod," said Archdeacon Boyles, "but Ellie was one who always reminded the church that the goal was of healing and reconciliation and that needed to be done in partnership, taking the lead from Aboriginal peoples."
In the 1990s, Ms Johnson led her department through some difficult restructuring and also helped vision how churches could work together on social justice projects. She was a leading voice in shaping Kairos: Canadian Ecumenical Justice Initiatives, which was formed in 2001.
At an international level, Ms. Johnson served on several Anglican Communion international mission bodies, including the Inter-Anglican Standing Committee on Mission and Evangelism, and its predecessor, MISSIO, which drafted the Anglican Communion's Five Marks of Mission. She describes these times as "real highlights."
As vital as Ms. Johnson's work was as head of one of General Synod's largest departments, she also grew into a statesmanlike role as senior member of the Management Team, and in many ways, as General Synod's corporate memory. In recent years, there have been few important decisions come before management that she could not elucidate by providing context, often going back years.
Post-Church House
Now facing retirement, Ms. Johnson rolls her eyes at the inevitable "what next?" question. She is now divorced and living in Oakville, Ont. with her three daughters and three grandchildren living close by, either in the Toronto area or Montreal.
"I would like to do a bit of travel, but I'm going to have to do something more purposeful than that, because that's the kind of person I am," she said. "I have lots of energy and I want to do something useful with it."
The new Director of Partnerships will be Henriette Thompson, a former Director at World Vision and Dean at the Institute for Christian Studies.
---
Interested in keeping up-to-date on news, opinion, events and resources from the Anglican Church of Canada? Sign up for our email alerts .