Discussions on human sexuality have been at the forefront of church deliberations for many years. On the third full day of General Synod 2010, representatives from committees and commissions that have done considerable work in this area, along with Archbishop Fred Hiltz, shared with the members of General Synod an overview of discussions, actions and statements on this topic which have taken place since General Synod 2007.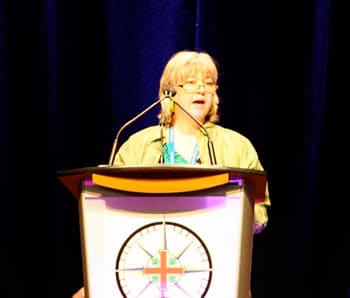 Ms. Janet Marshall (chair) and Ms. Lela Zimmer, of Faith, Worship and Ministry committee; Bishop Linda Nicholls (chair), the Rev. Jamie Howison, and the Rev. Dr. Gary Thorne, of the Primate's Theological Commission; and Bishop Colin Johnson and Bishop Michael Bird of the Bishops in International Dialogue committee, reported that the work and discernment on human sexuality over the past three years has included, "conversations that have deepened as the work continued", input from the wider church through a process of focus groups across Canada, and "creating opportunities to step away from the hotly debated issues of same-sex blessings and engage in the more general topic of human sexuality".
Archbishop Hiltz spoke to the level of commitment he has felt for all those involved in the discernment of this issue. Referring to discussions that took place in the House of Bishops, he said, "even in the face of difference, there was always a desire to stay together."
Across the church, many if not most diocese have been involved in some kind of discernment regarding the blessing of same sex unions. "The fact is, all across the church there have been some very significant conversation," said Archbishop Hiltz, "and in some cases some significant decisions. That is the reality of our time."
Ultimately, the church remains mindful of its relationship with the worldwide communion and committed to the decision expressed in an October 2008 pastoral letter from the House of Bishops, said Archbishop Hiltz.
"We have not as a house revisited or altered that decision in any way," he said, encouraging members of General Synod to use the pastoral statement as a starting point for further conversations. "I look forward to being a part of how the Spirit moves among us on this topic of consideration."
In the coming days, the agenda at General Synod will provide opportunities for members to give their feedback on the work that has taken place over the last three years, have table group discussions and possibly work towards the creation of a pastoral statement.
Over 350 delegates and special guests have come from coast to coast to coast across Canada for this nine-day event, which takes place each triennium. Further details and highlights are available online at www.anglican.ca.
---
Interested in keeping up-to-date on news, opinion, events and resources from the Anglican Church of Canada? Sign up for our email alerts .