Ash Wednesday marks the beginning of General Synod's new video series, God among us: Lenten videos on the Stations of the Cross. Produced by the Rev. Scott McLeod, the videos weave together art, music, and powerful narratives that show how we can seek the face of God in other people.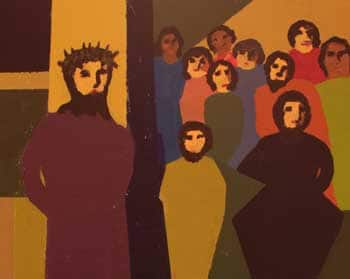 The videos are designed to be simple meditations, especially for those who chose to reflect at their computers or smartphones. They will be released approximately twice a week over the season of Lent.
God among us: Lenten videos on the Stations of the Cross continues General Synod's tradition of producing seasonal series to support personal or corporate devotional practices. Most recently, an Advent podcast series featured meditations by the Rev. Dr. Arthur Boers, professor and author.
Each video in this Lenten series is unique. Some are slideshows and stories about finding God on overseas trips. Others include music and video footage, often of street scenes. All feature a central piece of art—a painting or collage—that depicts a Station of the Cross.
"I have shared a number of my experiences in these videos—ones that stay with me," said Mr. McLeod, who serves as coordinator of online ministries for the Diocese of British Columbia.
"[These experiences] challenge me to live out the Gospel, to continue to seek the face of God in other people, to follow in Jesus' footsteps in trying to live out the Gospel, and participate in the building up of the kingdom of God."
Born and raised in Victoria, B.C., Mr. McLeod was ordained Anglican priest in 2005 and has served several parish communities. He has degrees from the University of Toronto and the Vancouver School of Theology, and has a particular passion for jazz and motorcycles.
Mr. McLeod hopes this series will deepen the season for all who watch:
"I hope that in this season of Lent, it helps give you the opportunity to think about the ways in which God is being revealed in your own life, through the common and everyday experiences that you might overlook.
"I hope that in sharing the challenges, that you see the challenges in your own life as opportunities to learn and grow in your faith and love. I pray all the blessings of contemplation in Lent for you."
---
Interested in keeping up-to-date on news, opinion, events and resources from the Anglican Church of Canada? Sign up for our email alerts .