The Rev. Canon Dr. Judy Rois has been appointed executive director of the Anglican Foundation of Canada, the community foundation of the Anglican Church of Canada. Canon Rois, a 56-year-old Toronto priest and professor, says she wants to increase the foundation's profile, or add "a little bling," as she puts it.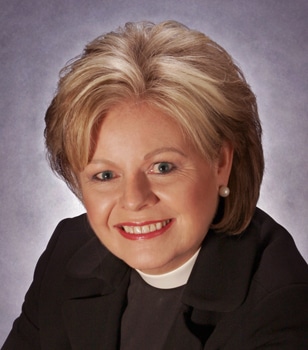 "I've been a parish priest for over 25 years and I've encountered lots of people who don't know what the foundation is," she said.  "I'd like to be able to give the foundation a much higher profile, so if we say 'the Anglican Foundation' in an Anglican parish, everybody is familiar with it."
Canon Rois, who currently serves as rector of Christ Church Deer Park, Toronto, told the foundation search committee that she wanted to give back to an organization that supported her. In the 1990s she received a foundation scholarship for her Master of Theology studies at Trinity College, University of Toronto. She then went on to a Doctor of Ministry at Seabury-Western Theological Seminary, Chicago, and now lectures in homiletics at Trinity College.
The Calgary-born Canon Rois has served on many national and diocesan committees, including the national Faith, Worship, and Ministry Committee, and the Diocese of Toronto Executive Council.
In a letter announcing Canon Rois's appointment, the Primate, Archbishop Fred Hiltz, praised her "extensive experience in strategic planning that transforms dreams into action plans." He also wrote that "She is absolutely committed to communicating our vision, and telling our story in ways consistent with approaches that speak to the many constituencies we serve."
Creative ministry and creative communication
When she takes up her new post in January 2011, Canon Rois hopes to lead the Anglican Foundation towards creative ministry and creative communication.
"There are new ways of being the church and doing ministry that need to be supported out there," she said. "We can use Twitter, blogs, and YouTube to share what's happening in the Canadian north or around the world. It might be about a new roof, and it might be about a new steeple, but it might also be about a new way of being the church. I really think we can use technology to share those stories."
Since its establishment in 1957 the Anglican Foundation of Canada has awarded more than $26 million in loans and grants to parishes across Canada for a variety of ministry projects, from liturgical arts to building improvements. The previous executive director, Dean John vanNostrand Wright, retired in August 2010.
---
Interested in keeping up-to-date on news, opinion, events and resources from the Anglican Church of Canada? Sign up for our email alerts .