God keeps calling the Rev. Canon Ginny Doctor to serve her people in different places. The Mohawk priest, 62, has helped raise Indigenous leaders in downtown Syracuse, N.Y., rural Alaska, and now Toronto, where she was hired as General Synod's new Indigenous Ministries coordinator in February.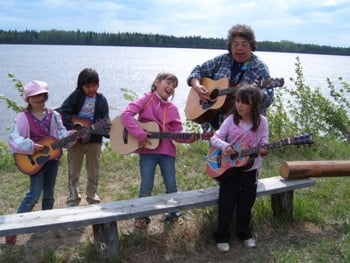 The scenery varies, but the people and their needs are a constant.
"There has to be healing before we can do any effective leadership development," she said. "That's been my passion."
Raised on the Onondaga Nation in central New York state, Ms. Doctor spent 17 years running an urban native centre in downtown Syracuse. It was fulfilling work on one level; she helped people find jobs, clothing, and housing. But eventually she realized that the cycle of poverty would only stop if these people found God.
This realization sprang from her own spiritual awakening. When her grandmother, backbone of the local Episcopal (Anglican) church died, Ms. Doctor, a self-professed "holiday Christian," found herself returning to the pews, seeking a way to be both Christian and Indigenous.
She started out on vestry and soon was invited to national meetings, where she was amazed to find other Indigenous Episcopalians who had similar joys and struggles. Before long, Ms. Doctor was saying "yes" to visiting some of these people on a summer missions trip up the Yukon River, deep into Alaska's interior.

A love affair with Alaska
The boat trip was a turning point for Ms. Doctor. Out on the quiet river with five other souls, she felt she was in the presence of God. It rained a lot. They floated past mountains. When they came to a town the team would hop on shore to play guitars, talk about God, and "do church," as she puts it. Ms. Doctor was moved by the faithfulness of the people, who showed up to sing late into the night.
Ms. Doctor had caught the Alaska bug. She told the national Episcopal Church office she wanted to serve as missionary and they sent her back, this time to Tanana, a subsistence village of 300 in the Alaskan interior.
At first, life was tough. Ms. Doctor lived in a small trailer with an inch of insulation—a thin buffer against winter lows of -60 Celsius. She dropped 50 pounds in the first year just from chopping firewood and hauling water (there was no indoor plumbing). Every day her friend John would pop in "just to make sure she was still alive."
But it was here that Ms. Doctor could focus on developing leaders in an integrated way. She led Sunday School, worked with youth, and helped an elder discern his call to ordained ministry.
"I just helped out wherever I was needed," said Ms. Doctor. "It's all about building relationships and making relationships that last."
A solid team
Ms. Doctor's work caught the attention of then-diocesan bishop Mark MacDonald who talked her into leaving her beloved Tanana and becoming his special assistant in Fairbanks, Alaska. Ms. Doctor's many jobs included leading the David Salmon School of Ministry and travelling widely to train and empower Indigenous women.
She also deepened her own education through theological studies at the Vancouver School of Theology and was eventually ordained priest by Bishop MacDonald.
For almost 10 years Ms. Doctor and the bishop worked together, anchored in their shared faith. He taught theology; she taught healing. They both believed in "circular leadership," giving others a chance to lead. If the bishop could vision, Ms. Doctor, an expert planner, could chart a way to get there.
"He couldn't live without me," she jokes.
But in 2007 the duo separated when Mark MacDonald was elected National Indigenous Anglican Bishop in the Anglican Church of Canada. Ms. Doctor continued as chief of staff for the Diocese of Alaska while Bishop MacDonald moved to Toronto.
This move wasn't a total surprise. The pair had been walking alongside Indigenous Anglicans in Canada as partners on the Anglican Council of Indigenous Peoples and by attending their national Sacred Circle gatherings. Ms. Doctor was in fact present at the 1993 gathering in Minaki, Ont., where she first learned about residential schools—and heard the Primate apologize for them—within a few short days.
Ms. Doctor said the Canadian church's focus on Indigenous self-determination separates it from the U.S. church. This theme was a major attraction for Bishop MacDonald and eventually it called to Ms. Doctor too.
When Donna Bomberry, former Indigenous Ministries coordinator, retired last summer, Bishop MacDonald got on the phone to Ms. Doctor. It took some cajoling but she finally agreed to take the position.
Now Ms. Doctor works at raising up leaders who can take this self-determination to the next level, as Indigenous leaders focus on renewal and new governance structures, like area missions, begin to evolve.
But Ms. Doctor came under one condition: she could make her home on the Six Nations reserve near Brantford. Years of fresh Alaskan air had turned her off of city life and she had a bevy of cousins and aunts to welcome her back. She has found a log cabin (with running water) and a community to reconnect with.
"It's a lot like coming home," said Ms. Doctor. "I have lots of homes. I'm blessed."
---
Interested in keeping up-to-date on news, opinion, events and resources from the Anglican Church of Canada? Sign up for our email alerts .