Archbishop Fred Hiltz, the Anglican Primate, and Susan Johnson, National Bishop of the Evangelical Lutheran Church in Canada, issued the following statement during the The Walk of Witness in Support of the Millennium Development Goals, September 25, 2008, in Ottawa.
The Walk of Witness in Support of the
Millennium Development Goals
September 25, 2008
Ottawa
Our Walk of Witness today coincides with the gathering of world leaders meeting in New York to re-energize the world's faltering commitment to the Millennium Development Goals.  The General Secretary of the United Nations, Ban Ki-Moon describes this meeting as "a high level event" designed "to review progress, to identify gaps, and to commit to concrete efforts to bridge them."  He says, "we must make this year one of unprecedented progress for the poorest of the poor."
One point four billion people in the world live in conditions of extreme poverty.  Every 3 seconds a child dies from poverty related causes.  Every day, 50,000 people die.  Every night, 800 million people lie down in hunger.  In the words of the former Anglican Archbishop of Capetown, Njogonkulu Ndungane, "poverty is the new global apartheid."
Here at home 770,000 people rely regularly on food banks.  40% of them are children.  In 1989 members of Parliament made a pledge to end child poverty by the year 2000.  Eighteen years later, the child poverty rate remains the same – 12%.  In First Nations communities, 25% live in poverty.
Do Canadians care about this?  Indeed they do.  According to a recent Angus Reid poll, poverty ranks among the top four issues in the current federal election campaign.  The ending of poverty, at home and abroad, must be a priority for the newly formed federal government.
In Canada there is an urgent need for a comprehensive poverty reduction strategy including national plans for childcare and housing.  Those who are most adversely affected by poverty — women, children and youth, and First Nations, Metis and Inuit peoples — must be consulted.
In the world there is an urgent need for Canada to reclaim its place as "a responsible global citizen."  In 1969 Canada led the way in recommending that rich countries adopt a target of .7% of the Gross National Income for foreign aid and development.  Now we lag behind at .28%.  Canada, as many have said, "is failing the world's poor."
Today,
We stand in solidarity with all those whose lives are marred by poverty, with all who long for the recognition of their human rights, and with all who advocate for them.
We stand outraged by the lack of truly measurable progress with respect to the realization of the Millennium Development Goals.  We call on world leaders to honour the commitments they made in 2000.  We look for substantial progress in the provision of food aid, adequate housing and healthcare, education, and the empowerment of women in the world.
We stand in support of the Global Call to Action Against Poverty, a coalition of campaigns in over 100 countries. The poor can wait no longer.   Justice calls us to act now in making an irreversible improvement to the lives of billions of people in the world. We long for the day when "justice rolls down like waters and righteousness like an ever flowing stream." (Amos 5:24).
We stand with over a quarter of a million Canadians and more than 1000 organizations who endorse the Make Poverty History campaign calling for an end to child poverty in Canada, 100% debt relief for poor countries, more and better aid, and trade justice.
We stand with all those demanding the implementation of the 2005 Kelowna Accord committing Canada to a concrete plan for closing the living standards gap between aboriginal peoples and all others who live in this land.
We stand with all those calling for action on Bill C-293, the Better Aid Bill passed in the House of Commons in March 2007.  It mandates the ending of poverty as "the exclusive goal of Canada's foreign aid policy."
We stand with all those who are convinced that, in the words of British Prime Minister, Gordon Brown, "poverty can be eradicated, poverty must be eradicated, and if we all work together, poverty will be eradicated."
And finally we stand with all who pray.
Give us, O God, a vision for our world as your love would have it
where the weak are protected and none goes hungry or poor;
where the goods of this life are shared and everyone can enjoy them;
where all nations, races, and cultures
live with tolerance and mutual respect;
where peace is built with justice and justice is guided by love;
and give us the inspiration and courage to build it.
Amen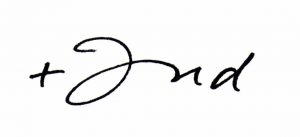 The Most Reverend Fred J. Hiltz
Primate
The Anglican Church of Canada

The Reverend Susan C. Johnson
National Bishop
The Evangelical Lutheran Church in Canada
---
Interested in keeping up-to-date on news, opinion, events and resources from the Anglican Church of Canada? Sign up for our email alerts .