Our plane touched down in Varadero, Cuba in the early afternoon of Saturday, April 30. Stepping outside after passing through security, Canadian Anglicans gathered in front of a sign made by our Cuban counterparts welcoming us to the first international Justice Camp.
We drove a half-hour to the city of Matanzas aboard a school bus painted with slogans in English and Spanish: "Breaking Barriers" and "Respeto y Amor" (Respect and Love). I stared through the window at the palm trees and stunning blue tropical water until we arrived at the Matanzas Retreat Centre. Here would be our base of operations for the next week, as 25 Canadian and 25 Cuban Anglicans joined together in shared faith and commitment to justice.
The first day at camp saw us ease into the experience with a formal welcome by Bishop Griselda Delgado del Carpio of the Episcopal Church of Cuba, gathering worship and orientation. Community building and cross-cultural activities took place in the evening to help the Canadians and Cubans break the ice. Skits embodying the characteristics of our respective nations included impressive Cuban song-and-dance numbers and Canadian skits revolving around hockey, Tim Horton's, canoes, moose, and a propensity to apologize.
After an early morning Eucharist and breakfast on Sunday, participants broke into groups to discuss the themes of the camp: common good, the reign of God (a more gender-neutral term than "kingdom"), and justice. A key refrain was the idea of the common good representing the practical application of God's reign to everyday life which reflects our common humanity and our duty to care for the most vulnerable.
Over the next two days, we heard from five plenary speakers further expanding upon those themes, assisted by simultaneous translation through special audio equipment.
Father Agustin Samora, rector of the Matanzas Retreat Centre, explored the Christian concept of justice, comparing it to other religious and philosophical traditions. He noted that as the only perfect being, only God can create justice, but that each of us is called to pursue this perfection in our own lives.
Bishop Griselda's long-time friend and former seminary colleague Dr. Carlos Emelio Ham, currently rector of the Seminario Evangelico Theologica, spoke next. Ham put the mission and challenge of churches in Cuba today in its historical and political contexts, starting with the work of Protestant missionaries in the 19th century.
Cuban churches, Ham said, initially rejoiced at the victory of the Cuban Revolution in 1959, which put an end to the hated Batista dictatorship. But the state's later embrace of Marxism-Leninism and official atheism led to new challenges, including a depletion of the church membership through emigration.
A turning point came with the 1984 visit to Cuba by U.S. presidential candidate and Baptist minister Jesse Jackson, and continued with Fidel Castro's 1990 visit to Brazil, where Castro encountered proponents of the liberation theology movement. Deciding that religion was not necessarily counter-revolutionary, the Cuban government relaxed its strong atheist stance just as the collapse of the Soviet Union saw Cuban churches play a greater role in alleviating the effects of the resulting economic crisis.
Today, the Cuban churches share a number of common concerns, which Ham described as the pursuit of justice in the country amidst continuing economic challenges, ecumenical work, fostering theological education, and becoming a more inclusive church. As an activist with a strong interest in social justice, I found Ham's discussion of the relationship between the Cuban church, the revolution, and the Cuban government to be particularly fascinating. A film shown that evening, Suite Habana, documented the lives of ordinary people in some of the poorest neighbourhoods of Havana.
Later that night, we unwound with an impromptu beach party near the retreat centre, aided by a Cuban participant playing music from his laptop. An unexpected point of cross-cultural unity came when Canadian and Cuban Anglicans joined together for a spirited dance to the Macarena, no doubt prompting some puzzled and/or amused reactions from the local residents.
On Monday, we heard three more plenary speakers, which included two academics from the University of Havana.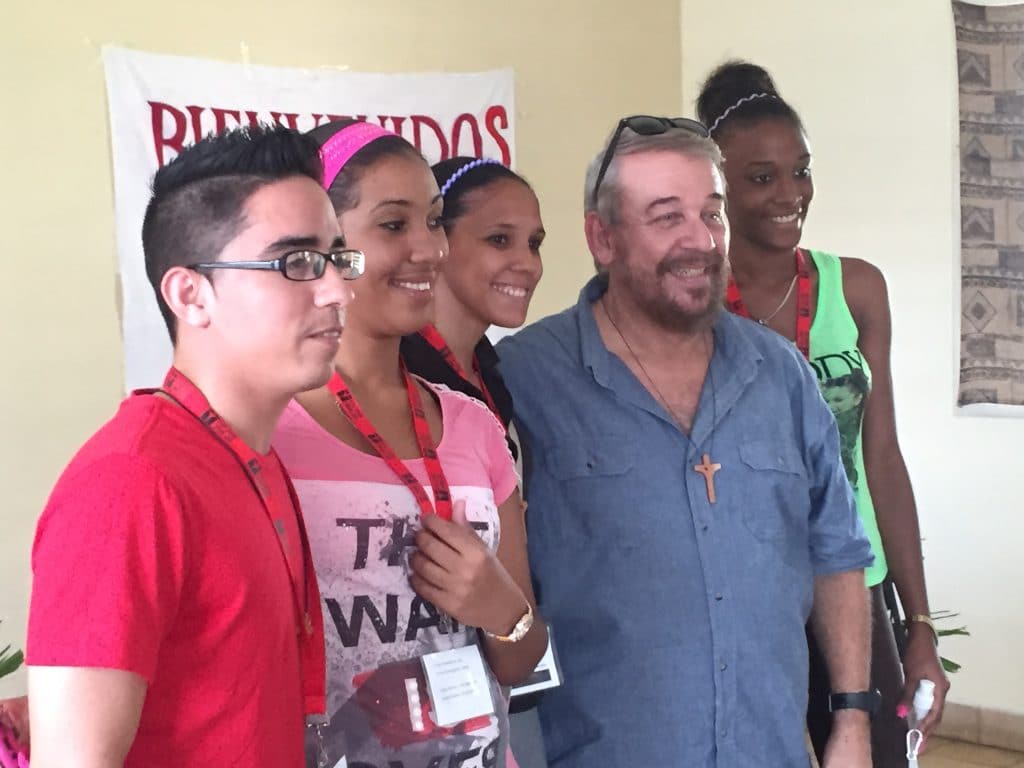 Professor Manuel Calviño, a psychologist at the university who also hosts a popular television program in Cuba, spoke about the concept of "civic spirituality" that informs the Cuban spiritual tradition—characterized by going outside the walls of the church and actively participating in civic life—and touched on the Cuban struggle for autonomy and independence. Our starstruck Cuban counterparts enthusiastically lined up afterwards for photos with Professor Calviño.
His colleague, Professor Lourdes Ibarra of the psychology department, spoke next about evolving trends in education and the family. She noted the economic and social challenges that remain in Cuban society. A particular emphasis was the extra responsibilities often faced by Cuban women, who are now predominant in the labour force but remain the centre of family life.
Finally, Bishop Sue Moxley (ret'd) of the Anglican diocese of Nova Scotia and Prince Edward Island offered a Canadian perspective, describing work on the justice issues prioritized at the 2013 General Synod of the Anglican Church of Canada: care for creation, truth and reconciliation with Indigenous peoples, responsible resource extraction, homelessness and affordable housing, justice and corrections, and peace and conflict resolution.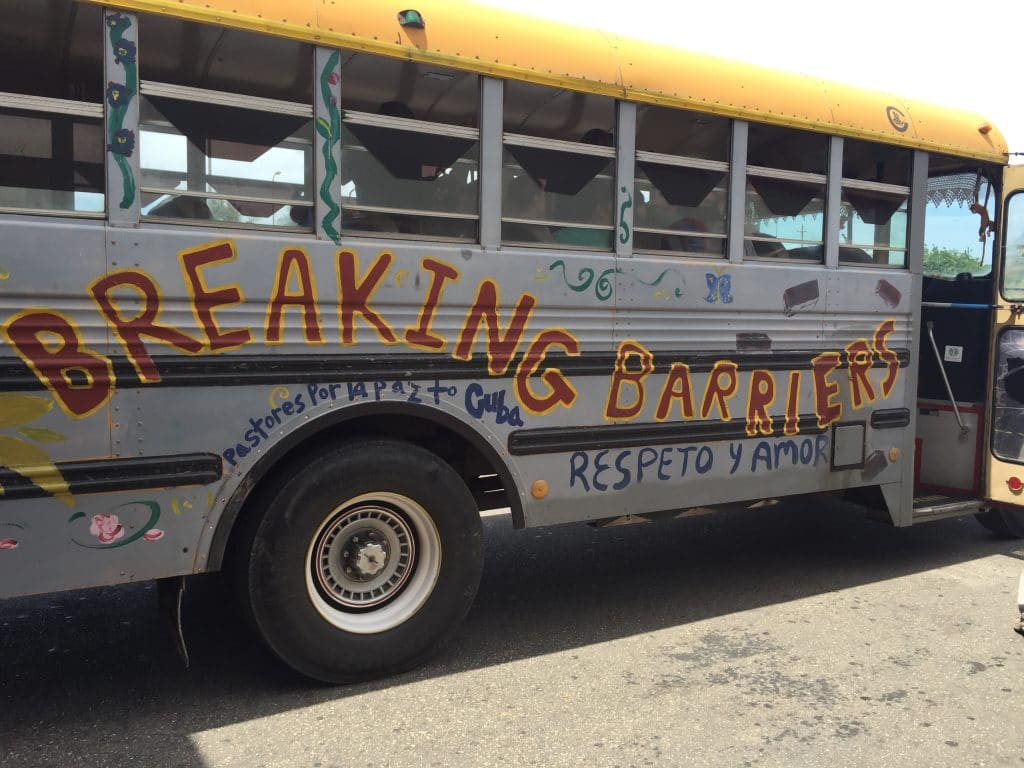 The speakers had given us plenty of food for thought. Sarah Stephens, a third-year student at the University of Victoria in the diocese of New Westminster, called the first few days of Justice Camp an "amazing experience" and cited Ham's presentation as a highlight.
"I've learned so much about Cuba and things that I didn't know … a lot about Cuban history and how religion is tied into it," said Sarah, 20.
Following a late-night wi-fi expedition to the city centre, where some participants had more success than others in connecting to the Internet, we returned to the retreat centre to sleep. In the coming days we would venture out beyond Matanzas, breaking into three immersion groups to visit different parts of Cuba with a respective focus on food security, social engagement, and economic justice.
Read part two of this report.
---
Interested in keeping up-to-date on news and information from the Anglican Church of Canada? Sign up for our email alerts and get our stories delivered right to your inbox.