Tucked into the southern shore of Lac La Biche is a community of 2500 people. Located 200 km northeast of Edmonton in the Diocese of Athabasca, the town of Lac La Biche is supported by the oil patch, forestry, agriculture and commercial fishing and has a cultural mix of French, Cree, English, Russian and Lebanese residents.
In this community is an Anglican church—small in number but, as member Mary Lehoux describes, full of faith, "faith that God will guide us through each day." She says that with the help of the Diocese and its bishop, Fraser Lawton, and The Rev. Lesley Wheeler-Dame, Rural Dean, this "brave and dedicated" congregation is working hard to keep their doors open, raising money and taking care of their church building.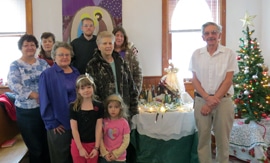 The parish has not had a resident priest for several years, but Mary says they have a wonderful priest, The Rev. Chris Boyce, who comes to the church twice a month for Holy Communion. Dedicated lay people lead the other services and serve as secretary-treasurer and on altar guild and vestry.
But this parish is not just "keeping things running": Mary describes her church as a "family supporting each other and loving one another." They also reach out to their community with events like a children's "shopping day" at Christmas. Each gift costs less than $2.00; parishioners wrap and label gifts for children to take home for family members.
A highlight of the season was the church's Lessons and Carols service, led by a lay reader who travelled from a nearby community to lead the service. Mary says the church, "glittering and festive" with decorations and a nativity scene, was filled with sounds of "joy and thanksgiving" as the singers "raised the roof"!
Christmas Eve service was held at 1:00 pm on Christmas Eve—no doubt just one stop on that northern priest's Christmas journey. In this geographically isolated community, the warmth of Christian fellowship brings joy and hope to Mary Lehoux, and to all whose lives are touched by this group of faithful Anglicans.
The ministry of congregations like this one, and the lay readers and priests who serve it, is supported by the Council of the North.
Sharon Dewey Hetke
Council of the North Communications
---
Interested in keeping up-to-date on news, opinion, events and resources from the Anglican Church of Canada? Sign up for our email alerts .