Education was the focus of the second day of the Truth and Reconciliation Commission (TRC) closing ceremonies on Monday, June 1. A series of learning opportunities explored the legacy of colonialism and Indian residential schools, reflecting the words of Justice Murray Sinclair, TRC commissioner and chair: "Education got us into this, and it is education that will get us out."
The majority of the events took place at the Delta Ottawa City Centre, which hosted a number of workshops and panel discussions.
In the Richelieu room, parties named in the residential schools settlement—including the Anglican Church of Canada—presented material from their archives. General Synod archivists Nancy Hurn and Laurel Parson displayed binders with material from Anglican-run residential schools and made copies of photographs upon request.
"People are finding pictures of themselves as children or their grandparents, and that's always very moving and exciting for them," Parson said.
One of the residential school survivors examining photographs was Flora Ottereyes Blackned of Waskaganish, Que., who attended the Mohawk Institute in Brantford, Ont. and La Tuque Indian Residential School in La Tuque, Que. during the 1960s.
"I came here to heal myself, and to look for the residence I went to," she said.
At a nearby table, two more survivors, Frances Luther (née Fletcher) and Helen McKenzie (née Ellen Reuben), could be seen studying a binder that featured a photograph of a smiling young Frances Fletcher working in the sewing room darning socks at St. John's Indian Residential School in Chapleau, Ont. during the 1940s.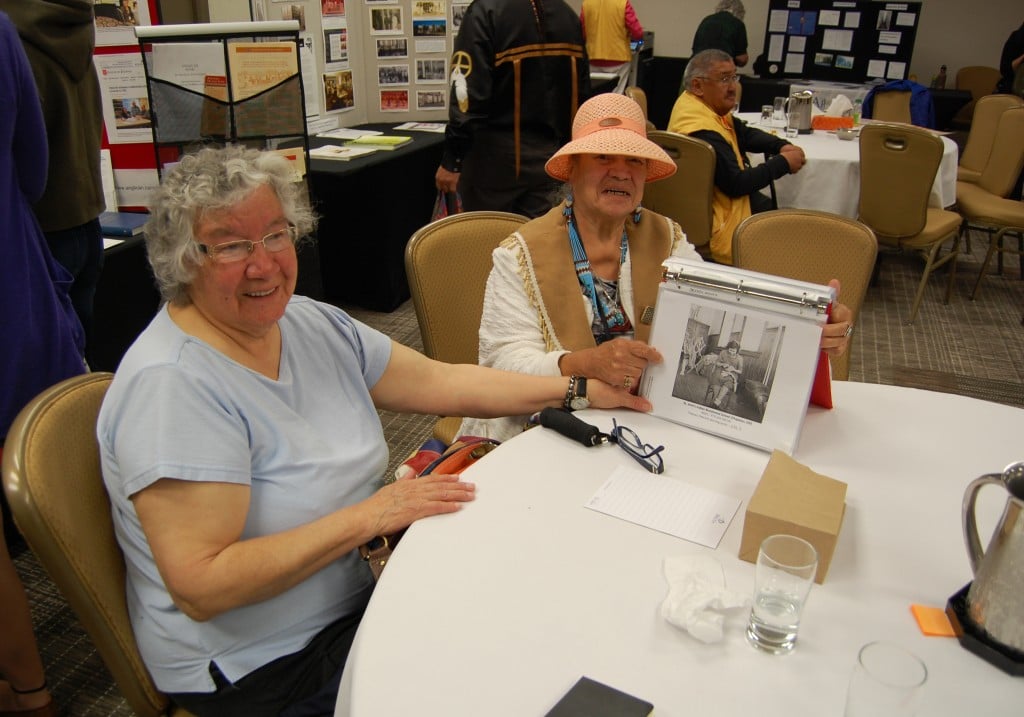 The image, which ended up in a contemporary Anglican Church calendar, belied a more bitter reality.
"They had to make me smile," Luther recalled.
Entering St. John's at age six, she attended the school for six years before transferring to Shingwauk Indian Residential School in Sault Ste. Marie, Ont.
The school, Luther said, was "run like a regimental army." Students were referred to not by their names, but as numbers (she was No. 24), and expected to immediately fall in line at the sound of a whistle or a bell. Lunch consisted of a raw vegetable, either carrot or turnip.
Lessons only lasted half the day, while the rest were spent doing chores. By the time Luther left school after 10 years, she had the equivalent of a fifth-grade education.
Viewing the photo of herself so many years later, Luther's reaction was blunt.
"I thought, 'What a waste of my childhood,'" she said. "What a waste of my childhood and my life…and every one of these people here, their lives."
"It didn't help any of my education," she added. "All I learned how to do was how to work in the bakery and the dairy and the sewing room and in the laundry."
McKenzie, who also attended St. John's and could not speak English when she began, recalled the loss of her native Cree language.
"I completely forgot, and when you go back home, you can't talk to anybody," she said. "They all talk Cree…I didn't learn back my language until after, when I was 15."
The building that formerly housed Shingwauk Indian Residential School is now Algoma University, where Luther works in the archives and presents seminars discussing the residential schools (when speaking to younger children, she avoids mentioning the severe punishments or rampant emotional, physical and sexual abuse).
Despite apologies offered by the federal government and churches in recent years, the pair remained skeptical. They pointed to the continuing plight faced by many Indigenous communities that lack medicine, affordable food, and clean water.
Asked whether she believed the apologies offered by the Anglican Church of Canada were sincere, Luther replied that she did not—yet offered suggestions for ways the church could back up its rhetoric, such as by sending clothes, medicine, and groceries to isolated northern communities and supporting schools there.
"Actions speak louder than words," she noted.
The challenge of repudiating the church's colonial past also came up at earlier in the day during a panel discussion at Ottawa City Hall. National Indigenous Anglican Bishop Mark MacDonald was one of the panel speakers for Dismantling the Doctrine of Discovery: The Road to Reconciliation, which examined how the doctrine has been used to justify the colonial dispossession of sovereign Indigenous nations by conquering powers.
Discussing the church's point of view, Bishop MacDonald noted that the doctrine continues to have an effect today as part of the general attitude of "globalizing Western society."
"This idea is not only affecting the people of the land—it's destroying human civilization," he said. "It is so critical at this point for humankind to wake up from this hypnotism and to begin to look at life and all that is in it in a very, very different way."
---
Interested in keeping up-to-date on news, opinion, events and resources from the Anglican Church of Canada? Sign up for our email alerts .