Growing family engagement through worship, crafts and meals
A few years ago, calling a church "messy" might have inspired an impromptu work bee complete with mops and pails, brooms and dustpans.
Today, however, the "Messy Church" moniker is not about dust and clutter, but rather about churches finding fresh and creative ways to connect—both with people who once knew something about church but became disengaged and with those who have never known anything at all about church but are open to learning more.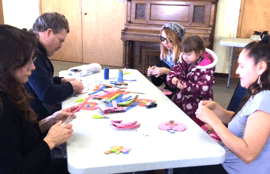 "When I called the representative from Messy Church in England, she told me I was their first Messy Bishop!" says the Rt. Rev. Larry Robertson. Robertson, together with parishioners at Christ Church Cathedral in Whitehorse, is carrying the Messy Church banner for the Diocese of the Yukon. "There were a lot of people and families that the Cathedral wanted to reach out to, but many of the families hadn't been to church since their parents took them."
The Cathedral's Messy Church gatherings have been held monthly and include about 20 to 30 people, primarily families. Participants do crafts, have a short worship time and share a meal. Bishop Larry says that the meal is "very important because it begins to make you feel like a family."
Bishop Larry is unfazed by critics of the Fresh Expressions movement who often ask, "Is it really church?" His passion for the initiative is unwavering: "Church is people gathering together in the name of Jesus, to learn and share. One of the problems we have as Anglicans is that we meet with God in a very specific way: Communion. But Church is not only that, it's also meeting together and sharing. When people are meeting around a coffee table and having fellowship that is church. We meet in the name of Christ and learn about him in many ways other than just Communion."
The Messy Church gatherings have been a challenge for the ageing congregation at the Cathedral, but Bishop Larry says, "Some have dug deeper and some from outside the church are pitching in with the cooking. It's starting to pull people in."
Bishop Larry says word-of-mouth advertising has been the most effective way to spread the word about Messy Church. Still, he says, "We also have a couple of sandwich boards we put out a week beforehand, and we advertise on the radio and we give the kids a little card which says when the next meeting is. We had one family, a single mother, call to say she lived on the outskirts and didn't have a ride. We arranged for transportation and they've been coming for the past 6 months."
"It's messy and it's church, but is it also fun?" I ask, to which the Bishop replies, "People like it so they are coming back. This has to be enjoyable—if it's not enjoyable people aren't going to come back."
For more information on Messy Church and the Fresh Expressions movement in Canada visit www.freshexpressions.ca.
---
Interested in keeping up-to-date on news, opinion, events and resources from the Anglican Church of Canada? Sign up for our email alerts .