The Ven. Dr. Michael Thompson, rector of St. Jude's Anglican Church in Oakville, Ont., will serve as the Anglican Church of Canada's next General Secretary, starting Nov. 1. Archbishop Fred Hiltz, Primate, announced Mr. Thompson's appointment to Church House staff on Sept. 6.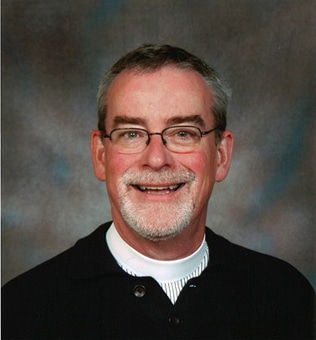 His appointment was ratified by an email vote of the Council of General Synod (COGS). Mr. Thompson succeeds the Ven. Dr. Michael Pollesel, General Secretary since 2006, who announced his resignation last spring.
"I am confident, friends, that Michael is the person for this position at this time," wrote the Primate in an email to COGS members.
"He brings competence and charisma, energy and enthusiasm for the role. He knows his strengths and he knows his growing edges. He knows he can easily step into some aspects of this role and that others represent a learning curve. I am confident that he will grow into this ministry and that our church will be well served through his leadership."
Archbishop Hiltz also praised Mr. Thompson's commitment to building strong partnerships with dioceses, his capacity for theological reflection, and his skills in organizational management.
Mr. Thompson, 55, is experienced at all levels of the church. He has served parishes in three dioceses (Edmonton, Niagara, Toronto), coordinated several diocesan initiatives, and teaches pastoral theology at Trinity College, University of Toronto.
Mr. Thompson also has experience with General Synod: he has served as a member of General Synod and the Council of General Synod, a member of the Philanthropy Committee, and chair of the Communications and Information Resources Committee. From 2001 to 2004 he worked as principal secretary to the then Primate, Archbishop Michael Peers.
In an interview, Mr. Thompson said he looked forward to serving General Synod in a new role.
"I feel honoured to be the next person to occupy that office, given the quality and integrity of people who have done this work before," said Mr. Thompson. "When you think about how the General Secretary's office has stepped up again and again in critical moments in the life of the church, it's delicious to think that I'm in that tradition."
He said that at its best, General Synod is a "connection maker" between activities, people, ideas, convictions, gifts, and passions. "I looked at this position as an opportunity to connect up some things and people that I really care about and to see new connections emerge," he said.
Mr. Thompson anticipates facilitating more connections relating to Aboriginal self-determination, Anglican-Lutheran relations, and supporting General Synod staff.
A gifted communicator, Mr. Thompson was the primary writer behind the Anglican Church of Canada's strategic plan, Vision 2019. His many publications include two books with ABC Publishing: Living the Spirit of Marriage (2005) and Living the Spirit of Eucharist (2004).
Based at the General Synod offices in Toronto, the General Secretary serves as chief operating officer for the Anglican Church of Canada. He or she coordinates communications and programs among departments and dioceses.
In April 2011, the Council of General Synod appointed a search committee, chaired by the Prolocutor, Canon Robert Falby, to find the next General Secretary. The committee gave the Primate three names and the Primate nominated Mr. Thompson for COGS's approval, which they gave last week.
Mr. Thompson holds a Doctor of Ministry and a Masters of Divinity from Trinity College, University of Toronto, and a Bachelor of Arts from Huron College, University of Western Ontario. He is married to Dr. Deborah Tregunno, a professor of nursing at York University, Toronto. They have three children: Ian (25), Rachel (22), and Daniel (19).
---
Interested in keeping up-to-date on news, opinion, events and resources from the Anglican Church of Canada? Sign up for our email alerts .