Did you know that ecumenical prayers were written and used for Expo '67?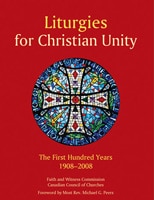 These are two of the prayers included in Liturgies for Christian Unity: The First Hundred Years (Novalis, 2008), compiled by the Canadian Council of Churches (CCC) to mark the centenary of the Week of Prayer for Christian Unity.
The book contains a selection of prayers used throughout the movement, which began in 1908 after an Episcopalian priest encouraged members of his religious order to pray for Christian unity. The collected prayers chart the spread of this tradition, and are written by the CCC, the World Council of Churches, the Canadian Centre for Ecumenism and others.
Canadian Anglicans had a hand in putting the book together. Former Primate Archbishop Michael Peers contributed the foreword, while Eileen Scully, coordinator for Worship and Ministry at General Synod, wrote the historical overview and introductions to the chapters.
The prayers in Liturgies for Christian Unity would be useful for both individuals and pastors who are looking for unique ways to pray for Christian unity. Theologians and historians may also be interested in how these prayers reflect the development of the ecumenical movement.
In the introduction, Mary Marrocco, associate secretary for the Commission on Faith and Witness (CCC) writes, "We hope this anthology will help renew the call to prayer and refresh us in the conviction that the Spirit of God is drawing Christians closer together."
Liturgies for Christian Unity can be ordered through the Anglican Book Centre, from Novalis Publishing, or your local Christian bookstore.
---
Interested in keeping up-to-date on news, opinion, events and resources from the Anglican Church of Canada? Sign up for our email alerts .