It wasn't the kind of agenda you usually see at a national church event. In fact, the agenda had been tossed out the window.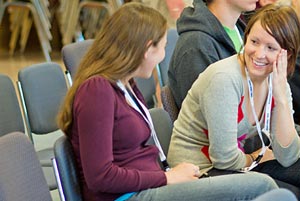 On the third day of the first-ever Generation 2008 national youth ministry forum, held June 10 to 15, in London, Ont., the schedule was cleared for five hours of "open space." This meant that the approximately 160 participants–old to young, social workers to teen leaders–could host conversations on anything they wanted to talk about.
After two days of bonding over workshops, community-building, and worship, they were bubbling with conversation ideas. Consultant Brian Lisson explained the "open space" concept (as a "semi-organized, perpetual coffee break"), then people hopped up to the mic to introduce their topics: youth ministry in rural parishes, contemplative prayer, and "S'up? Jumping into the mind of youth."
Twenty-eight conversation topics were then slapped up on a wall-sized schedule, and the chat-fest began. The Huron University College campus was soon busy with pairs and clusters of people, who either settled down for a series of talks, or moved around to "cross-pollinate" discussions, as Mr. Lisson put it. The point was, he said, to capture those great casual conference conversations that often turn out to be better than plenary sessions.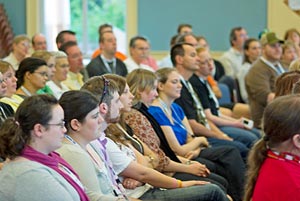 Much of Generation 2008 focused on sparking these kinds of conversations between very different people (from ages 16 to 75, from 27 dioceses). The campus bar turned into the Oasis, a general hangout, but also the setting for some formal, filmed discussion on the church's long-term strategic plan, Vision 2019.
Interactivity was also built into the workshops. At "How to teach so kids will learn," people were up on their feet acting out apostles' lives. And the opening night drumming circle wasn't just a show–much to everyone's amazement there were enough djembes to go around. Sitting beneath a large white tent, young and old beat their drums into the warm June night.
It seemed like no one was expecting this much fun.
"I expected the message to be, 'we're in trouble, how are we going to fix it?'" said the Rev. Paul Ranson, a youth minister and assistant curate from Fredericton, NB. "But I didn't realize it would be engaging and hopeful."
Mr. Ranson said that Generation 2008 had inspired him to focus outward on his larger community instead of just getting people into the church. He was also moved by a worship service where people could pick their responses, including labyrinths, icons, etc. He wants to use this worship format with his 20-member youth group.
Krista Gordon of Calgary was also inspired. The 23-year-old is the youth director at her parish of St. Laurence. "I came to Generation because I don't feel like I have any education from the church for what I do," she said. "And I feel really lost."
She said she found some tools for her parish work, but mostly she was encouraged by the networking: "I've met people in Calgary here who do what I do–so I can take that back there and use that."
Back at the open space experiment, seven women talked passionately about the importance of one-to-one meetings in girls' ministry. Down the hall, a larger group brainstormed about how the national youth website could offer more practical resources.
Generation 2008 organizers weren't going to let those good ideas go. At the end of the day, small groups digested the opportunities, challenges, and next steps from these conversations. And on the last full day that more tangible plans began to emerge, like a national camping network and a national youth news list. Another group put their heads together to write a letter to the national church.
Youth Initiatives Coordinator Judy Steers, the event's key organizer, was delighted with how the conference went, and she's planning for a Generation 2011. Generation 2008 took a full year of planning, cooperation between many parties, and a lot of funding that would have to be raised again.
In the meantime, 160 energized youth workers have been sent back into the world.
"Can you imagine an open space day at General Synod 2010?" Ms. Steers mused.
---
Interested in keeping up-to-date on news, opinion, events and resources from the Anglican Church of Canada? Sign up for our email alerts .