As diocese and parishes prepare for Palm Sunday, Anglican Book Centre staff members are working towards the deadline on getting the traditional palm crosses ready for Palm Sunday.
For more than 27 years, Lottie Gauthier, ABC order processor and former ABC bookstore staff member Bernice Campbell have been making palm crosses for dioceses and parishes to use during Palm Sunday services, but now Ms. Gauthier is passing on the tradition to other bookstore staff.
"In a year I produce over 4,000 crosses, depending on how many orders come in" said Ms Gauthier.
As one of the bookstore would-be palm cross maker, Brenda Enns, ABC customer service representative realized, "it takes a bit of practice and skill to just make one cross."
The palms are ordered from a local florist who gets them from either Mexico, Costa Rica or Florida. The crosses need to be preserved in a cool place once finished, to keep them moist. "You put them in a Ziploc bag and then place them in the fridge—do not freeze them!" Ms. Gauthier told her students.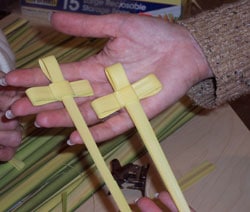 The palm crosses cost 75 cents each; orders can be placed through the ABC bookstore.
For ordering palm crosses please contact:
ABC Bookstore
80 Hayden Street
Toronto, Onatrio, M4Y 3G2
Tel:416 924-1332 toll free (in Canada) 1-800-268-1168
Email:[email protected]
---
Interested in keeping up-to-date on news, opinion, events and resources from the Anglican Church of Canada? Sign up for our email alerts .