"How can we put some meat on the bones of this relationship?" This question propelled a Sept. 3 and 4 meeting between staff from the Anglican Church of Canada (ACC) and the Evangelical Lutheran Church in Canada (ELCIC). Since 2001, the two denominations have been in "full communion," a relationship that allows for interchangeability of clergy, and other commitments outlined in the Waterloo Declaration.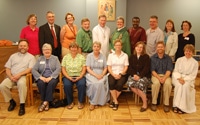 But in many parts of the churches the rubber needs to hit the road. "The first six years of full communion have been nice," said the Rev. Paul Johnson, assistant to ELCIC's national bishop. "But we need to work harder at making it more real for more people in the churches."
Energy for this work came last year when both churches elected new leaders. Archbishop Fred Hiltz (ACC) and National Bishop Susan Johnson (ELCIC) already knew each other, and were already passionate about Anglican-Lutheran relations. They decided the next step was joint program consultation on the broad "mission and justice" subjects of relief, development, advocacy, justice, and public policy.
"I think both of our churches have put the work of compassionate justice really high on our agendas," explained Bishop Johnson. "That's probably the easiest thing to go deeper on together, because it's really practical."
The meetings, held at Anglican Church House in Toronto, gathered 19 Anglicans and Lutherans: program staff (also from the Primate's World Relief and Development Fund and Canadian Lutheran World Relief), the Primate and National Bishop (who co-convened), and a facilitator. The structure varied throughout the two days, from larger group meetings to explain the history of full communion, to smaller groups that discussed specific program collaboration.
Among many topics, staff discussed how the biennial Lutheran youth gathering could be reorganized to include Anglican youth, and how both denominations could use their existing partnerships (with development agencies, etc.) to greater effect.
"It was incredibly energizing," said Jill Cruse, the Anglican coordinator for mission education and personnel. She said she learned a lot, including how the Anglican partnership with Lutherans is different from ecumenical relationships with other denominations.
"In some ways an ecumenical relationship is not integral to who I am," said Ms. Cruse. "But we are partners with the Lutherans like we're partners with our international partners. They're part of us."
But what is the significance for parish ministry? Mr. Johnson acknowledges that Anglican-Lutheran cooperation may still seem distant, particularly if one denomination is under-represented in an area. However, she noted that these meetings are about "using resources more efficiently, and being better stewards of our gifts from God"—something of interest to all Anglicans and Lutherans.
Both Archbishop Hiltz and Bishop Johnson say they are energized to make this relationship relevant. Bishop Johnson said there is a possibility of developing a five-year joint program plan up to 2013 when the Anglican and Lutheran national gatherings overlap. She said she looks forward to Anglicans and Lutherans not just working cooperatively, but as one unit.
"The most fun thing is that I might have hopes and dreams, but the spirit is going to take us in totally different directions that I have no clue about," said Bishop Johnson with a big smile. "I'm just glad to be along for the ride."
---
Interested in keeping up-to-date on news, opinion, events and resources from the Anglican Church of Canada? Sign up for our email alerts .