The Primate, Archbishop Fred Hiltz, knows a beautiful carol when he hears one. "'Silent Night' has a way of bringing the whole world together," he said, "if only for a few moments of quiet as we reflect on God's will for love and peace throughout all nations."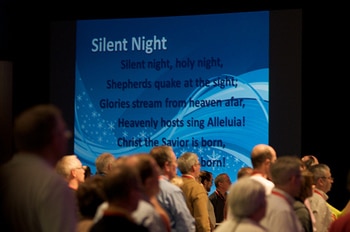 This Advent, Canadian Anglicans are invited to reflect on this message and join the church-wide Silent Night Project: Anglicans promote peace in the spirit of Amazing Grace. All are encouraged to film themselves singing the carol "Silent Night" on or before the first Sunday of Advent, Nov. 28. Video renditions can be uploaded to the General Synod YouTube page by Dec. 14, and from there they will be compiled into a documentary, to be put online by Christmas.
A new website shares more information about the project, including instructions for uploading videos and a backgrounder on the carol "Silent Night." Singers are encouraged to get creative in their singing and set-up; it is an opportunity to share how churches across Canada prepare for Christmas.
The model for this project—the 2008 Amazing Grace Project—was a resounding success. Thousands of Canadian Anglicans sang and recorded themselves in downtown cathedrals, seniors' homes, and remote outports. Over 500 videos were sent in and all were included in an award-winning documentary, Amazing Together. Although originally designed as a unity-building activity, the Amazing Grace Project also raised more than $95,000, now being used for suicide prevention in northern Canada.
Project will support military chaplains
The Primate has asked that each singer consider donating a toonie to support the ministry of Anglican military chaplains, who work among the women and men of the Canadian Forces. Funds from the Silent Night Project will bolster chaplains' ministry by supporting the work of their pastoral leader, the Bishop Ordinary. Together, the Bishop Ordinary and the chaplains carry out an essential ministry: witnessing to God's transformation in a broken world.
Chaplains serve wherever the Canadian Forces are stationed. A chaplain may travel overseas on a humanitarian mission, serve the Eucharist aboard navy ships, or counsel women and men who suffer from post-traumatic stress disorder.
"It's a unique expression of ministry and in recent years we've become more aware of its importance," said the Primate. "We've all seen that familiar sight of the flag-draped casket being borne by soldiers and at the head of that solemn procession is the chaplain. Those chaplains exercise a tremendous ministry with the women and men who are deployed, and also back home, where they support families through anxious times, grief, and in times of incredible readjustments as their loved ones return."
Of the more than 85 Canadian Anglican military chaplains, some minister specifically within the Anglican Military Ordinariate, the grouping of all Anglicans in the Canadian Forces. Yet chaplains' work of spiritual support extends to all members of the Forces-Anglicans, other Christians, and people of other faiths.
For more information about the Silent Night Project, visit the new website or email the Silent Night Project Team.
---
Interested in keeping up-to-date on news, opinion, events and resources from the Anglican Church of Canada? Sign up for our email alerts .