It is 2:00 pm on Thursday April 4th in the First week of Easter. At this moment I stop what I am doing to remember Nina Burnham. In spirit I am with the great company of friends who have gathered for her funeral at St Peter's Church in Ohsweken, Ont.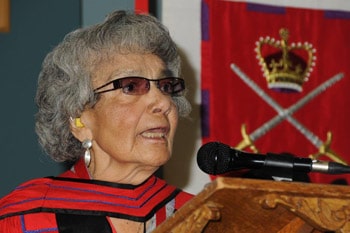 What a remarkable woman Nina was! Her whole life was devoted to helping people achieve health of body, mind and spirit. As a dental hygienist she travelled extensively throughout numerous First Nations communities and via the medical ship, C.D. Howe she visited many Inuit settlements in the Eastern Arctic as well. As an aboriginal leader she was very involved in community development initiatives. She served for 18 years as a Counselor on The Six Nations Council.
Nina had an amazing capacity for bringing people together. She knew when it was time to speak and when it was time to be silent. In both there was a power for good.
As a person of faith she was so committed to the bridging of aboriginal spirituality with the teaching of Christ. She embodied the gospel of love. When Nina said she would pray for you you knew she would, and without ceasing. Through her prayers many experienced the healing touch of God. She walked among us as a faithful servant of the Lord Jesus. She knew he loved her and as often as he would call her by name, she would know the joy that was Mary Magdalene's when the Risen Lord called her by name on that first Easter morning.
Nina was one of our church's most devote members. In recognition of her outstanding commitment to parish and diocesan life she was awarded The Order of Huron in 2010.
On the national scene she was a member of the Anglican Council of Native Ministry for a number of years and served on the National Indigenous Covenant (1994) Implementation Commission. Long after she was awarded  the Anglican Award of Merit in 1991 she continued to serve our church with great love. With so many others, my heart beats with gratitude for this dear servant of God and all the work to which she cheerfully turned her heart and hand.
Now she rests from all her labours and we have entered into her labours. Let us pray that by the grace of God we may follow the example of her good and holy life.
In remembering Nina, Paul's words to the Philippians come to mind:
"Rejoice in the Lord always; again I will say, Rejoice. Let your gentleness be known to everyone. The Lord is near. Do not worry about anything, but in everything by prayer and supplication with thanksgiving let your requests be made known to God. And the peace of God, which surpasses all understanding, will guard your hearts and your minds in Christ Jesus." (Philippians 4:4-7)
---
Interested in keeping up-to-date on news, opinion, events and resources from the Anglican Church of Canada? Sign up for our email alerts .