Young people attending last summer's Sacred Circle in Pinawa, Man., did something unusual: with the help of adult leaders and General Synod staff, they made a video reflecting on seven traditional Indigenous teachings and on how those teachings connect to their own Christian faith.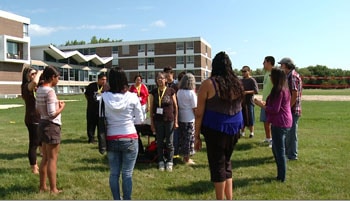 Young people from across Canada took on many different roles to make this project a reality-from supplying artwork and doing editing work, to appearing in the video itself. They then polished the video for several months so that it could be shared with church at large.
The result is a video that gives a sense of the real people involved in making it, as well a lesson in the connections between Indigenous wisdom and Christian faith.
Watch the 13-minute video online.
"I hope it draws more youth into being a part of what we have within these Sacred Circles and to . . . get back into the roots of how it was before," said Dixie Bird of Montreal Lake, Sask., facilitator for the youth video.  "I hope that the youth know it's not just a video, that it's actually us and how we live in today's day and age, that they feel proud of it and proud of our accomplishments."
The video features young people (and their youth ministry leaders) from across Canada, each presenting one of the seven traditional teachings-Love, Peace, Trust, Faith, Kindness, Forgiveness, and Respect-and talking about how these connect to their own lives and identities as Indigenous Canadians.
The Rev. Canon Ginny Doctor, Indigenous Ministries coordinator for General Synod, got the ball rolling. "We were going to Sacred Circle, and we had a LOT of young people registered. I thought it would be good to give them a challenge . . . and so the challenge was that they use their creativity to produce their thoughts and their answers to the questions we were asking at Sacred Circle.
"[Afterwards,] in fact, one young man said 'I thought you were crazy. I thought 'there's no way we can do this,' but once we got into it we could do it!' They worked long and hard at it. The production-it's stunning, considering what they were up against and how much time they had to do it.
"I think the message itself is important… about the seven teachings. I think people who see it will gain a better understanding of Indigenous values and how they are connected to Christian values. They're one and the same."
DVD copies of Walking the Dream are available from the Indigenous Ministries office for a suggested donation of $10. Contact Teresa Mandricks by email, or by phone at 416 924 9199, ext. 247.
Donate separately to help support future Sacred Circle gatherings.
---
Interested in keeping up-to-date on news, opinion, events and resources from the Anglican Church of Canada? Sign up for our email alerts .