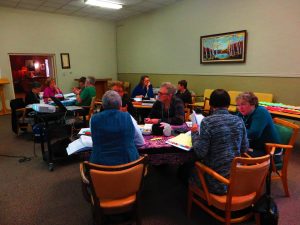 Mission work by the Diocese of Saskatoon looks to gain in strength after co-chairs of its external outreach committee attended the Learning for International Faith Engagement (LIFE) seminar, Jan. 17 to 18.
Presented by the Canadian Churches' Forum for Global Ministries (CCF), the LIFE seminars—which take place at least twice a year—aim to help people and groups planning missions abroad as well as potential hosts by drawing upon collective knowledge gained through decades of global mission experience.
The most recent seminar took place at the Queen's House Retreat Centre in Saskatoon. Representing the Saskatoon diocese were co-chairs Cheryl Moen and Joan Irving, who gained valuable information and tools to facilitate future mission work. Among the subjects discussed were packing lists, safety tips, what to do before, during and after a trip, and how to ease feelings of culture shock.
Moen and Irving were the only representatives from the Anglican Church of Canada at the ecumenical LIFE seminar, which was facilitated by CCF director Jonathan Schmidt and included 11 attendees in all.
"It was very useful in that we were able to get together with other people [who] were also planning different trips, and talk back and forth about what works for one another and make some changes and so forth," Moen said.
One of the exercises attendees took part in was acting out various scenarios that could take place on a mission, such as what to do in case of an accident.
"If you're given a scenario and you think about it and you work through it, it's a lot more helpful than just reading a piece of paper," Irving said.
No strangers to mission work, Moen and Irving previously accompanied fellow members of the Saskatoon diocese on missions to the Mexican state of Baja California in June 2012 and June 2014.
A total of 27 people from the diocese attended the first Baja mission; they built two houses for indigenous residents in the neighbourhood of Vicente Guerrero. On the second trip, 26 people attended and built three houses.
The missionaries, who hailed from communities throughout the diocese, including Lloydminster, Humboldt and the Battlefords, ranged from youth to professionals to farmers.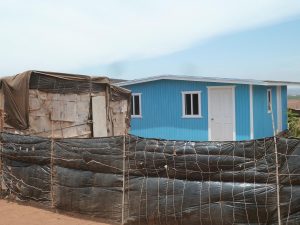 The diocese is currently planning another mission trip in 2016 or 2017.
"We're in the planning process at the moment, because these trips take a good 18 to 24 months to plan," Irving said.
The next mission is likely to take place in a location other than Baja. Peru and Honduras are the most likely destinations, though the precise nature of the work remains to be determined.
"We haven't heard back from either of those places yet, so we don't know exactly what the project would be," Moen said.
"It most likely would not be houses again. It may be building onto pre-existing projects that have been started there now."
Wherever the next mission may take the diocese, Moen and Irving believe the knowledge they gained at the LIFE seminar will help lead to an improved experience for missionaries and hosts alike.
"The logistics of [the mission], like putting it together…we kind of had that figured out," Moen said. "But just some of the thinking that we were given—to considerations of the people down there and asking more of exactly what they want when we get there and so forth—that'll be different this time for sure."
---
Interested in keeping up-to-date on news, opinion, events and resources from the Anglican Church of Canada? Sign up for our email alerts .