"It changes you in ways you can't put into words." This was Jeffery Hooper's response to the three months he and his wife Michelle Taylor spent in Uganda with General Synod's Theological Students International Internship Program (TSIIP). The Hooper-Taylors were in Toronto for a debriefing at the Canadian Churches Forum for Global Ministries from Oct. 15 to 18, along with TSIIP participant Nicolas Alexandre, who visited the Philippines.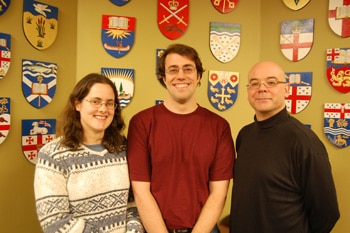 Through TSIIP, Canadian Anglican theological students spend three months with an overseas Anglican diocese, learning about and supporting their ministries wherever possible.
Mr. Alexandre, a student at the College of Emmanuel and St. Chad, described his time as a "ministry of presence." His hosts at the Episcopal Church of the Philippines showed him a range of places, from Manila's squatter communities to the green, lush mountains of Sagada. During his May to August stay, Mr. Alexandre also studied and taught at St. Andrew's seminary.
The Hooper-Taylors were hosted in a similar way during their January-to-May Ugandan stay. Mr. Hooper, a student at Wycliffe College, Toronto, was welcomed into rural and urban churches, homes, shops, and diocesan schools. Ms. Taylor, a veterinarian, accompanied him and also taught a course at the Ankole Western Institute of Technology, where another Canadian volunteer, the Rev. Dr. Carolyn Langford, served as a Volunteer in Mission. (Read their Ugandan blog here.)
Both the Hooper-Taylors and Mr. Alexandre had a taste of what it is like to be in partnership with Ugandan and Filipino Anglicans. They offered old skills like tech support, and gained new skills, like delivering sermons on short notice. They cleared up misconceptions about Canadians, and made new Ugandan and Filipino friends. They offered suggestions from Canadian ministry, and were inspired by huge youth gatherings, open discussions, and an incredible amount of hope.
Now back at their seminary studies, the Hooper-Taylors and Mr. Alexandre know that their experiences in the Philippines and Uganda will shape their future ministries in the Anglican Church of Canada.
"We both have a piece of how God works," explained Mr. Hooper, "Only together can it be a whole."
If you are a Canadian Anglican theological student interested in learning about Anglican ministry overseas, contact Clementina Thomas, program associate, mission education and personnel, by email or phone: (416) 924-9199 ext. 361. The deadline for the 2010 program is Friday, October 30. Previous TSIIP participants have travelled to Sri Lanka, South Africa, and Grenada.
---
Interested in keeping up-to-date on news, opinion, events and resources from the Anglican Church of Canada? Sign up for our email alerts .