Returning to Canada after three months in laidback, humid Belize was a bit of a jolt, but Chelsy Stevens is feeling positive. "I certainly learned a lot about my faith, about Christianity, and hospitality," she said in an interview after her return on Aug. 9. "It was a great experience and I'm glad I had the opportunity to form a partnership with brothers and sisters across the world."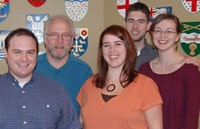 Ms. Stevens is one of four Canadian Anglican theological interns returning this month after stints abroad: Len Fraser in Sri Lanka, Jonathan (and his wife Megan) Crane in St. Vincent, and Kyle Wagner in South Africa. Each of these interns supported the partner churches in whatever ways possible: preaching, leading Bible studies, or working in community development organizations.
Of course their assignments played out in all sorts of unexpected ways. For example, Mr. Wagner found himself working at UN refugee camps during South Africa's recent xenophobic violence, and Mr. Fraser had time to explore the Buddhist cultural context of Sri Lanka.
This fall, the interns will meet for a formal debriefing session, led by the Canadian Churches' Forum for Global Ministries. The forum, which provides mission personnel support for the Anglican Church of Canada and other churches, also provided a training session before the interns left.
In the meantime, the interns are reacclimatizing, and processing their rich experiences. For Ms. Stevens, this means praying, talking about her experiences and continuing to write her blog (web journal), which she started during her travels. Mr. Wagner and Mr. and Mrs. Crane also kept up blogs during their internships.
Have the plentiful photos (of fruit and friends) and stories (of ministry and squash tournaments) piqued your interest? Contact Clementina Thomas, program associate in the partnerships department of General Synod, for more information about the theological students internship program.
---
Interested in keeping up-to-date on news, opinion, events and resources from the Anglican Church of Canada? Sign up for our email alerts .