In just a few months, these Canadian theological students will hop on planes to visit and learn about our worldwide Anglican family: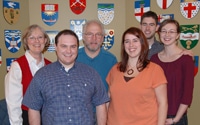 Jonathan Crane and his wife Megan are going to St. Vincent (West Indies).
Leonard Fraser will travel to Sri Lanka.
Chelsy Stevens and Elizabeth Vaughan are off to Belize.
And Kyle Wagner is going to South Africa.
These are the newly selected participants in the Theological Students International Internship Program (TSIIP) who will live and work alongside international Anglican partners for three months beginning this spring.
From Jan. 4 to 15 they met in Toronto for an orientation organized by the Canadian Churches' Forum for Global Ministries. There was lots to cover, including contextual theology, developing cross-cultural skills and health care. Field trips to a mosque, a Hindu temple, and the Port Credit Cree community were also on the agenda.
"It was very educational and very informative," said Chelsy Stevens, a second-year theology student at Wycliffe College. "I definitely realized that I haven't had a cross-cultural experience and I'm very comfortable being Canadian." Then she laughs. " I'm in for a big surprise, I think. A good surprise, a life-changing surprise!"
Preparing with books and blogs
Later this spring, the students will find out more about their specific tasks overseas, whether it be supporting clergy ministry or assisting in parish programs. Until then, they're back at their respective Anglican theological colleges, balancing studies and overseas preparation.
At the Vancouver School of Theology, third-year student Leonard Fraser is busy reading about his destination country, Sri Lanka. The former steel fabricator especially looks forward to interfaith encounters: "You know when you go to places in the world and people sit around in town squares and talk about life and living and the problems going on? That's where I like to be at."
On the other coast, in Halifax, Kyle Wagner has started a blog. The Atlantic School of Theology student has already written his first entry, on the joys of vaccinations.
Together, the students have started a private group on Facebook, the social networking website, where they can keep tabs on each other's adventures.
Behind the scenes at TSIIP
The nitty-gritty of TSIIP—the selecting, matching, monitoring—is done by Clementina Thomas, Program Associate with General Synod's Partnerships department. She explained that the program is for students to learn more about global concerns, deepen their commitment to the Anglican Church's mission and ministry, and gain cross-cultural experience.
Recently the funding for TSIIP has been increased to support more students in their travel and basic expenses. Each student is carefully placed, trained, and supported along the way. Global Relations Coordinator Andrea Mann has visited many of these foreign dioceses so she helps match students based on personalities and needs.
Once overseas, students will be supervised by the Anglican partner, but will be in monthly contact with General Synod. When they return in the summer they will participate in a debriefing organized by Canadian Churches' Forum for Global Ministries.
"Everyone changes when they go," said Ms Thomas. "A lot of students when they come back are involved in some of the General Synod committees and they're also involved in their own dioceses."
Over the past 15 years, 45 students from 15 dioceses have participated in TSIIP. You can read about the 2007 students here.
Sign up or keep up
Are you a theological student who's feeling the itch of the TSIIP bug? Contact Clementina Thomas directly to find out more.
And watch out for updates on www.anglican.ca later this spring. Jonathan, Leonard, Chelsy, Elizabeth, and Kyle will be keeping in touch.
---
Interested in keeping up-to-date on news, opinion, events and resources from the Anglican Church of Canada? Sign up for our email alerts .