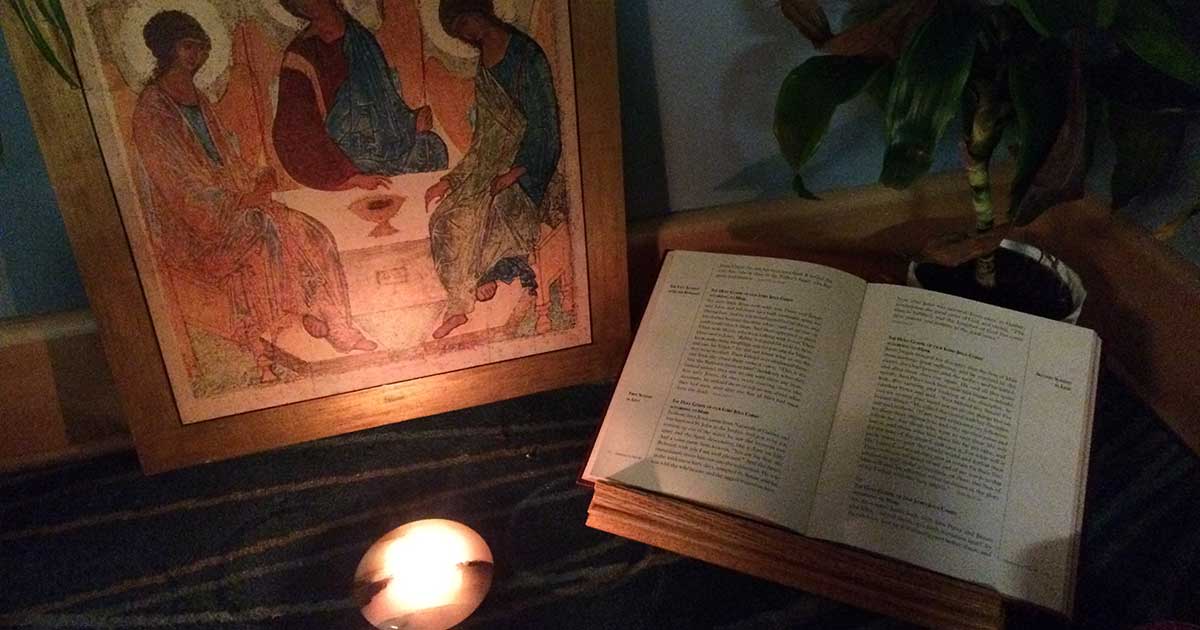 Into the next section we have arranged essays that reflect on concrete experiences of local communities as they sought to continue to nurture discipleship and faithful worship through the mediation of various forms of communications technologies and in some special contexts.
Dan Bowyer, a spiritual care practitioner (chaplain) at a long term care residence describes the ways in which the pandemic has strengthened a deep sense of the sacramentality of ecumenical community in a context of particular fragility, as the home lost -at last count- seventeen of its residents. Marie Louise Ternier, serving in a full communion congregation, reached out further to the ecumenical friends in her rural region, discovering there the possibilities for sustained ecumenical friendship that was made possible by videoconferencing technology, and uncovering that across participants of all denominations, the cessation of holy communion in their separate churches has them longing even more passionately for the time when all Christians can gather at the same table.
Two deacons, one in Toronto, another in Kelowna, reflect on how they have been processing the experience of online worship. Kyn Barker notes a concern that some streaming of eucharistic celebrations set up or reinforce a presumptive priestly clericalism given who is seen being permitted to receive the elements. Chris Ross, sitting at home alone, lamenting the loss of the eucharist and of community, records feeling acutely pained at not being able to be of assistance to those who are in need. "Deacons are always wondering how they can be of assistance." She carries the tension of acute loss along with the awareness that a 'remote' or 'virtual' eucharist would not be an answer for her. Another deacon, Nancy Ford, urges a reorientation of the conversations around the eucharist away from questions having to do with our relatively passive reception of communion, towards the active and outward movement to which God calls us in discipleship to be true and real presence to each other and to the world.
Leslie Flynn is a leader in youth ministry who discovered that moving both youth events and regular parish worship online has had some very positive effects on the faith maturation of some young people. They 'zoom in' not because their parents are 'taking them to church,' and are even more engaged in their own discipleship formation through the programmatic offerings developed for them.
In Conversations: Church in the Midst of the Pandemic, Peter John (PJ) Hobbs passes on to us what he heard from individual Anglicans in Ottawa whom he queried about their experiences of online worship. They have discovered a deepening of faith and of prayer life through online worship. Much to his surprise, some reported not missing the eucharist at all, explaining that they never have been able to put together for themselves just what the celebration of holy communion is all about. This has not been a loss for them.
From Penticton, BC, Nicholas Pang offers reflections on his parish's experiences as they discerned the most accessible ways of reaching people (opting for YouTube rather than Zoom for those reasons). He calls us to reflect on the mystery of grace: "whether or not we're able to participate in the Eucharist at this time, is the miraculous grace of God transforming hearts and minds in ways that we normally experience through the Eucharist?"
Observing the patterns of engagement in her own parish, parish priest Anne Privett seems to anticipate and to answer Pang's question, noting that "the absence of the Eucharist has drawn us into a richer understanding of ourselves as the body of Christ and enabled us to feast more deeply on the living Word in scripture." The activity of offering online Compline has been, to Calgarian Brendon Witwer an occasion to reflect both on how to nurture discipleship as well as to grapple with his own identity as a priest. How many clergy experience the draw to be 'seen' in ministry, and how do they make gracious space for others and overcome the clericalism that can easily take root in perception and action?
Stephen London has found himself surprised at the fact that faith conversations within his parish in Edmonton not only can take place over Zoom, but they can be deep and nurture real growth in faith as we discover that we really are connected. "As Christians, we already believe in big surprises… that the infinite God became flesh in a tiny child."  In Pushing Back from the Table Joanne Mercer also reflects on her personal experiences vocational and spiritual, as a priest and theologian in Newfoundland. In this time of eucharistic absence, it seems the real, mysterious core is made more starkly clear: that the eucharist is as thanksgiving, outward and visible sing, narrative, memory, solidarity, having ethical imperative, and much more.
Donna Joy continues reflections on parish and personal experiences with a reflective chronicle of the decisions and activities of her Winnipeg parish as they grappled together with how to approach worship. The paper is a product of reflection on intentional conversations amongst the parish clergy and lay leadership. Paying deep attention to the needs of the congregation, they boldly named the importance of lament as a spiritual practice and have been highlighting lament in teaching and preaching, enabling people to name their losses and pray through these times.
Murray Still recounts the changes and adjustments that have been undertaken within his parish. He brings the questions that have arisen in that context into conversation with two other contexts – an ecumenical worship experience, and the realities of the Indigenous church in sacred gathering. When gathering is so at the core of who we are, especially for Indigenous people, can that identity and vocation affirming gathering be facilitated through technology?
With respect to particular aspects of parish worship practice, there has been little said, but much wondering about how best to offer communion as churches reshape aspects of liturgy to accommodate social distancing and hygiene practices. Hilary Bogert-Winkler was commissioned by the Bishop of Quebec to write a paper that provides an argument against the use of individual communion cups based on the historical emergence of this as a racist practice that emerged in past eras in order to avoid 'impurity.' Though the purposes of this project was not to offer instruction on such specifics, for example using individual cups and/or a common pouring chalice (thereby being one cup), this bit of historical exploration reminds us that whatever practices we institute now, our original rationale may or may not be understood by those who come after us.