A melodic pop song, winner of the Anglican Church of Canada's Marks of Mission contest, is being released today as a music video and multimedia website. "Hope" by Jaylene Johnson and Jim Kimball topped more than 70 entries ranging in style from rock to choral.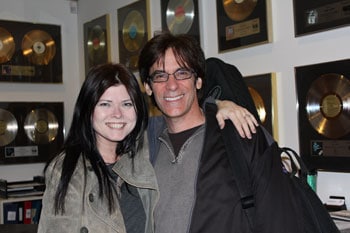 The song features established talents. Johnson, a Winnipeg-based singer-songwriter has featured music on TV showsPretty Little Liars and Degrassi: the Next Generation. Nashville musician Kimball has toured with Reba McEntire, Faith Hill, Tim McGraw, and Justin Timberlake.
The original music video, produced by Anglican Video, is the centerpiece of the launch website, which also includes behind-the-scenes features on collaborators, including the Good Noise Vancouver Gospel Choir and producer Randy Murray, communications officer at the Diocese of New Westminster and a former member of rock group BTO.
It was Murray who pulled together this team of crack musicians for the recording sessions in Vancouver, March 2012. It came together over hours of hard work, beautiful sounds, and then ultimately, a polished final product.
The song itself is both catchy and deep. Its lyrics describe a hope that is enduring, beyond cheap gestures of "pulling petals off" or keeping "fingers crossed."
Johnson said these words were inspired partially by her battle with chronic pain after a car accident.
"I think hope is mysterious or maybe not so mysterious when we walk with God," she said.
Johnson also works as ministry coordinator at st. benedict's table, an Anglican mission, in Winnipeg. On the website the Rev. Jamie Howison, priest at st. benedict's table, explains why he appreciates the message of "Hope."
The Primate, Archbishop Fred Hiltz, is also a fan.
"I thank Jaylene and James for this song," he said. "Thank you for its message of hope as a tiny voice that makes its way through all the noise of the world, and says 'hold on.'
"This song reminds me that our times are in God's hands and that hope truly is the song in the heart of our Church—at worship and at work in the world."
Parishes may wish to consider sharing the song during the Epiphany season, or on this special Sunday, Jan. 13, which marks the Baptism of our Lord.
The song contest called for entries that represented the Marks of Mission—five priorities for ministry used throughout the global Anglican Communion. Songs were judged by a team of expert musicians.
General Synod also ran two other related contests to celebrate the Marks of Mission: a Sunday School curriculum contest, which resulted in the Compendium of the Church Mice, and a photography contest, open until Jan. 31.
"Hope" is available for purchase through Jaylene Johnson's website, or parishes can order a free copy of the music video on DVD.
---
Interested in keeping up-to-date on news, opinion, events and resources from the Anglican Church of Canada? Sign up for our email alerts .