In a new online video, Archbishop Fred Hiltz of the Anglican Church of Canada (ACC) and National Bishop Susan Johnson of the Evangelical Lutheran Church in Canada (ELCIC) offer joint Easter greetings to their churches.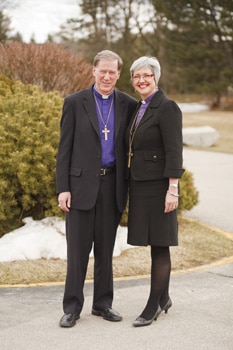 In the ninety-second video, the leaders acknowledge the recent suffering in Japan and the conflicts in North Africa.
"We place our hope and our trust in our Lord Jesus Christ, hanging on the cross, rising from the grave, drawing near to his disciples, making himself  known to them in the breaking of bread and the opening of the scriptures," said Archbishop Hiltz.
Bishop Johnson reminds Anglicans and Lutherans that the year 2011 marks 10 years of full communion between the ACC and the ELCIC. Congregations are encouraged to celebrate this unique ecumenical relationship in their home communities.
---
Interested in keeping up-to-date on news, opinion, events and resources from the Anglican Church of Canada? Sign up for our email alerts .