Canadian Anglicans can get to know a bit about the new General Secretary, the Ven. Dr. Michael Thompson, through a one-on-one interview, available as an online video.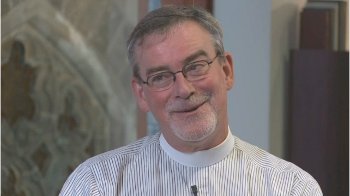 Mr. Thompson, who started his new job Nov. 1, speaks with Lisa Barry, Anglican Video senior producer, about his passion for the church, declining enrollment, his beloved family and more.
Mr. Thompson also takes on questions including the oft-misunderstood role of the General Secretary.
"I think it's a connecting job," he said. "It's about people and resources. It's about possibilities and gifts. It's about the staff of General Synod. It's about the Council of General Synod [and] the standing committees. There are enormous gifts distributed through that matrix and also enormous potential for collaboration."
Mr. Thompson, 55, was most recently rector at St. Jude's Anglican Church in Oakville, Ont., and a former principal secretary to the Primate. He has served parishes in three dioceses and served on several standing committees of General Synod.
He follows the Ven. Dr. Michael Pollesel, who served from 2006 until 2011.
In an email to COGS members, the Primate, Archbishop Fred Hiltz, commended Mr. Thompson's "competence and charisma, energy and enthusiasm for the role." He also praised Mr. Thompson's commitment to building strong partnerships, capacity for theological reflections, and organizational management skills.
Watch short interview clips:
---
Interested in keeping up-to-date on news, opinion, events and resources from the Anglican Church of Canada? Sign up for our email alerts .