Prison Ministry in the Council of the North is grounded in the power of grace and transformation.
Across the Council of the North, Anglicans are bringing the healing and reconciling presence of Christ to northern prisons.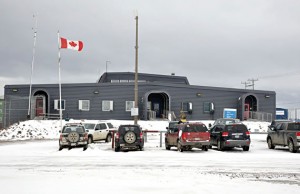 On a snowy Sunday afternoon in Iqaluit, Captain Cyrus Blanchet makes the drive to Baffin Correctional Centre. "Sometimes it just gets tiresome, dragging myself out there on a cold day, going in there with my bag of hymn books and Bible…." Still, he goes—and he knows he doesn't go alone. "The good Lord goes with me and before me."
In Prince Albert, Sask., Kathleen Stewart leads weekly evening prayer at the Saskatchewan Penitentiary. Music plays an integral part. One particular inmate is put in charge of planning music for the services. Stewart tells the men: "'I'm just here to do ministry with you as best I can and try and work together as a group'—because the hardest thing they have, of course, is to work together."
The Rev. Martin Carroll ministers at Yukon's Whitehorse Correctional, a brand new prison he describes as "almost like maximum security—there's 600 cameras in this place, everything's electronic keys, they have sensors to track you—it can be intimidating." But these barriers are worth getting past in order to get to the heart of ministry.
And this ministry is not limited to within the walls—especially in small, isolated northern communities. Carroll explains: "Some of them I know and have met on the street, so we maintain a relationship if they should happen to be charged and incarcerated." And then Carroll is there when they're released: "We had one person who finally came to the end of the line, I counseled him through it. He attended some of the church services and seems to be on a little bit of a straight and narrow right now, so we continue to pray with him and talk to him on the street."
Stewart sums up her prison ministry in Prince Albert in this way: "I'm the Anglican presence for these guys while there's no one else there at this time. So it's encouraging to me that it's a ministry from God, but it's being done through me."
Read more about the transformations that are taking place in these northern prisons as Anglicans share the Gospel—and show the power of a Christian presence.
Sharon Dewey Hetke
Council of the North Communications
---
Interested in keeping up-to-date on news, opinion, events and resources from the Anglican Church of Canada? Sign up for our email alerts .