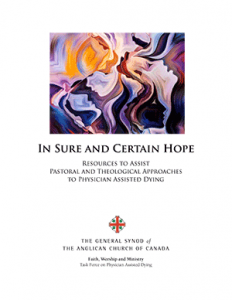 Produced by the Faith, Worship, and Ministry Task Force on Physician Assisted Dying, In Sure and Certain Hope presents theological considerations on physician assisted dying and offers new perspectives on palliative and pastoral care, reflecting the changed legal situation in Canada following the February 2015 ruling by the Supreme Court of Canada that overturned the previous ban on assisted dying. The document also provides a list of references and definitions as well as prayer and liturgical resources.
In addition, a study guide is available as a companion piece to In Sure and Certain Hope. This study guide offers Canadian Anglicans an additional resource to reflect upon our pastoral responses to changes in the legal framework governing medical assistance in dying.
Resource Details
Resources listed here have come from a wide variety of sources. For more information or if you have any questions about this resource, please contact the document provider listed below.
Contact: Eileen Scully, Faith, Worship, and Ministry
Reviewed: March 28, 2018