The Amazing Grace Project is proving to have been a resounding success, with close to 450 videos received so far and more than $18,000 raised in support of ministry in the Canadian North.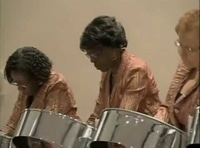 As the responses pour in, the world is seeing a glimpse of Anglican church life across Canada: boisterous churches, small churches, grey-haired churches, rural churches, churches with squirming babies, churches with wooden beams led by full-voiced rectors. What a privilege it is to peek in on this world.
The Amazing Grace Project encouraged Canadian Anglicans to sing "Amazing Grace" on Nov. 23, record their rendition, and send the video to the national office, where it will be included in a documentary, put online by Christmas. Singers were also asked to donate a toonie for Council of the North, the group of financially assisted dioceses in Canada's north.
Here's a quick cross-Canada tour of some (of the many!) notable videos:
Don't see your video online yet? General Synod staff are still working to process your submissions, both uploading them to the website and including them in the documentary, which will be released by Christmas. CalledAmazing Together, the film will be hosted by Lynne Samways Hiltz, wife of the Primate, Archbishop Fred Hiltz.
---
Interested in keeping up-to-date on news, opinion, events and resources from the Anglican Church of Canada? Sign up for our email alerts .