During Advent, a season of hope and expectation, anglican.ca will feature weekly stories about Anglicans  sharing Christ's hope with the world. Each story connects with a Mark of Mission and includes a giving opportunity through the Anglican Church of Canada's new gift guide, Acts of Faith.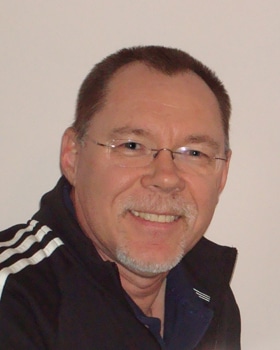 Spiritual development can be hard to track, but Gary Cox of Dartmouth, N.S., can show you a stack of journals with 19 years of his daily reflections. Flip through and you will see scripture, prayer requests, and illustrations that show his growing faith. Now the 52-year-old has gathered his insights into a book called LEAP for Faith: Understanding the Process of Faith Development, forthcoming from Bryler Publications in spring 2011, and supported in part by the Anglican Foundation.
Mr. Cox sees faith development in four stages, which he summarizes in the acronym "LEAP": look and listen, explore and examine, acknowledge and accept, and practice and pray.
LEAP is a story and a program. The book is a fictional tale about a man, Troy, who is coached in Christianity by his friend Nick. This same book is also a workbook and comes with a five-week program for use in parishes. In January Mr. Cox will pilot LEAP in his home congregation of St. Andrew, Cole Harbour. He plans to record these sessions and put them online as video supplements.
LEAP is Mr. Cox's lay ministry. In his working life the 52-year-old is director of engineering for Canada Post, where he oversees another kind of complex process: the movement of mail throughout Atlantic Canada. He supervises a staff of 24, mainly engineers, who figure out how mail should be sorted and distributed to Canada and the world. Mr. Cox is certified in a business management strategy called Six Sigma—a "black belt" in fact.
Yet Mr. Cox has always had a creative outlet. He draws cartoons for a Six Sigma blog, and he has written ten full-length plays for St. Andrew's, where he has been a parishioner for over 30 years. It was only when one of his primary actors became ill that Mr. Cox decided to take a break from theatre and write the book he had long dreamed about.
Book offers hope in developing faith
"This really is a book of hope," said Mr. Cox. "One of the challenges people have in developing a relationship with God is that they think it's a complex thing. I think this book and this process give them the hope that it's not complicated."
The idea certainly inspired  Anglican Foundation directors, including Selma Doucet of Sydney, N.S., who called up Mr. Cox to learn more about the program before it was funded. "He was so pumped and so excited," she said. "The more he talked about faith development, the more he got me excited."
Ms. Doucet is also excited that LEAP, once published, could be used in parishes and dioceses across Canada.
In his presentation to the Foundation, Mr. Cox said LEAP was an example of the first Mark of Mission, "to proclaim the Good News of the Kingdom." The Marks of Mission, developed by the Anglican Communion, are a priority for the Anglican Church of Canada.
Mr. Cox's desire to proclaim good news can be traced back to one of his favourite verses, Matthew 5:16: "Let your light shine before others, so that they may see your good works  and give glory to your Father in heaven."
"That became a real pivotal point for me when I realized what that meant," said Mr. Cox. "That meant I was supposed to be a light at work, a light at church, and a light at home."
Help the Anglican Foundation nurture more creative projects that share Christ's light and hope. Support their work through the Acts of Faith Gift Guide.
---
Interested in keeping up-to-date on news, opinion, events and resources from the Anglican Church of Canada? Sign up for our email alerts .