INSTALLATION OF CANADIAN FORCES ARCHDEACON BRIGADIER-GENERAL KARL McLEAN AS CHAPLAIN GENERAL
The wind might have been blowing strongly and the rain may have been about to set in, but inside the Roman Catholic Cathedral Basilica of Notre Dame, in Ottawa on 12 September 2010 the crowd was warm and excited.  The new Chaplain General of the Canadian Forces was about to be installed.  Our own colleague, Archdeacon Karl McLean, newly promoted to the rank of Brigadier-General, and selected by the Interfaith Committee on Canadian Military Chaplaincy (ICCMC) was about to be appointed by the Chief of Defense Staff to become the head of the military chaplain Branch and the leader of over 200 Regular Force and 100 Reserve Force chaplains, the  dozens of congregations of the military chapels across Canada and abroad, and the caretaker of the faith for the tens of thousands of Canada's military members and their families.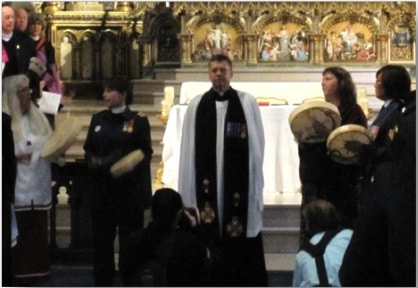 The service started with the sound of the pipes, as LCol (Ret'd) the Rev. Canon Bill Fairlie piped the procession  down the aisle of the Basilica.   Music was certainly central to the entire afternoon.  There were anthems by Christ Church Cathedral's Girls' Choir, the Cathedrals Men and Boys' Choir, and solos by its Organist and Director of Music Matthew Larkin.  The Canadian Forces Aboriginal Advisory Group's Drumming ensemble also led in a moving chant for leadership, surrounding Padre McLean and raising their voices and drum beats, first to the roof and then to the heavens.
Prayers were offered by all the denominational representatives of the ICCMC and by the Most Rev Claude Miller, Metropolitan of Canada, Bishop of Fredericton and Karl's home bishop.  The central moment of the afternoon was when the Chief of Defense Staff and Bishop Peter Coffin (Chair of the ICCMC) signed the installation documents.
---
Interested in keeping up-to-date on news, opinion, events and resources from the Anglican Church of Canada? Sign up for our email alerts .