The biennial National Worship Conference is a Lutheran summer tradition that is catching on with Anglicans. The 2010 conference in Vancouver, B.C. gathered over 80 Anglicans, Lutherans, and other Christians from July 4 to 7 to explore the theme "Taking Care of the Neighbourhood."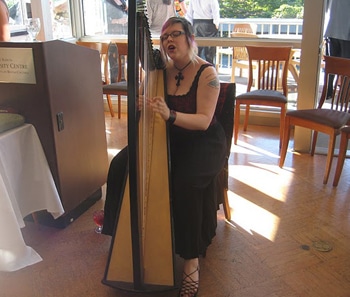 Anglicans and Lutherans—already "neighbours" through their full communion relationship—drew closer through workshops, learning from speakers, and worship. Each day began with simple morning worship drawn from different traditions, and the conference culminated in a community Eucharist. On July 5, many attended the ordination of Gregory Mohr as Evangelical Lutheran Church in Canada (ELCIC) bishop of the British Columbia Synod.
The Rev. Dr. Richard Leggett, Anglican co-chair, said the question "who is my neighbour?" came up throughout the conference. National Indigenous Anglican Bishop Mark MacDonald shared insights about Indigenous neighbours. The Rev. Karen Ward, abbess of the Church of the Apostles community in Seattle, Wash., explained that many "spiritual but not religious" neighbours are looking for a genuine faith community.
Keynote speaker Doug Todd, a Vancouver Sun columnist, has also written about the "spiritual but not religious" phenomenon. At the conference he shared his own journey to join a church.
The conference also considered how ancient and new practices are combined. The Rev. Karen Ward shared examples from her new monastic community. She led a vespers service that used a traditional format but incorporated fresh translations and modern music.
The combination of old and new resonated with Dr. Leggett, who has taught at the Vancouver School of Theology for 23 years, and who has acted as a parish worship consultant.
"I've been playing with the phrase 'old wine in new wineskins,' " he said. "This conference gave me great hope that practices that have been so important to me are still important to people."
The National Worship Conference, co-sponsored by the ACC and the ELCIC, is held on years opposite to the ELCIC national convention. The 2012 Winnipeg conference will be organized by co-chairs Geoffrey Woodcroft (ACC) and Michelle Barr (ELCIC). All interested in Christian worship are welcome, both clergy and lay. Upcoming information will be posted on the National Worship Conference website.
---
Interested in keeping up-to-date on news, opinion, events and resources from the Anglican Church of Canada? Sign up for our email alerts .