Anglicans need to know that their gifts make a difference. That's why Resources for Mission, the Anglican Church of Canada's fundraising department, has launched a speakers bureau, so people can hear from real, live Anglicans how their money translates into life-changing ministry.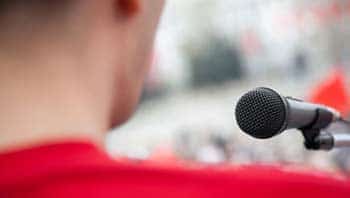 "Resources for Mission helps inspire and guide the generosity of Anglicans to support the church's ministry and mission at all levels—parish, diocesan, and national," said Shannon Cottrell, General Synod's donor relations and volunteer coordinator, who runs the bureau.
"Our work is about raising awareness, engaging others, and inspiring—so the speakers bureau is a natural fit for us."
Anglicans are now invited to book a speaker for a service or event. Speakers include General Synod staff and volunteers. They are available across Canada. Possible subjects include
The Suicide Prevention Project: Be inspired by the story of this groundbreaking program, first launched with toonies from the Amazing Grace Project and now a vast network of customized suicide prevention training on the front lines of this problem, which disproportionately affects Indigenous youth.
The Anglican Appeal: Hear the diverse impacts of the church's major fundraising appeal, which supports everything from Internet evangelism to our partners in the Cuban church.
The Anglican Military Ordinariate: Meet the courageous community of Anglicans in the Canadian Forces and the chaplains who work and worship alongside them-through training, relief projects, and even combat.
Each speaker comes equipped with information and stories that make the connection between stewardship and ministry on the ground.
Already, Resources for Mission staff are responding to speaking requests across the country. The new coordinated approach of the bureau is facilitating the fit between audiences and speakers.
Other Anglican fundraising bodies have had success with speakers bureaus, including the Diocese of Toronto, which runs one in conjunction with its FaithWorks annual appeal. In 2010, parishes that arranged a speaker through the FaithWorks speakers bureau saw an average increase of 20% or more in donations over the previous year.
"Anglicans are generous," said Susan McCulloch, FaithWorks campaign manager, "Because there are so many requests and competing needs in our lives, anything we can do to increase the awareness and the profile of the ministries that we're asking them to support is going to be very helpful in making sure your donors are informed and feel a sense of connection to the ministries that are being supported.
"I think a speakers bureau, with well-prepared, motivating speakers can be helpful in increasing both awareness and donations."
For information on booking a speaker from Resources for Mission or becoming one yourself, contact Ms. Cottrell by email or phone: (416) 924-9199 ext. 334.
---
Interested in keeping up-to-date on news, opinion, events and resources from the Anglican Church of Canada? Sign up for our email alerts .