The Anglican Communion brings together a worldwide family of national and regional Anglican churches. It is not, "an organization or body 'out there' which you join or not join," said Rev. Canon Kenneth Kearon, General Secretary of the Anglican Communion, in an address to members of General Synod on Monday, June 7. "The Anglican Communion is this place," he said, referring to the Anglican Church of Canada.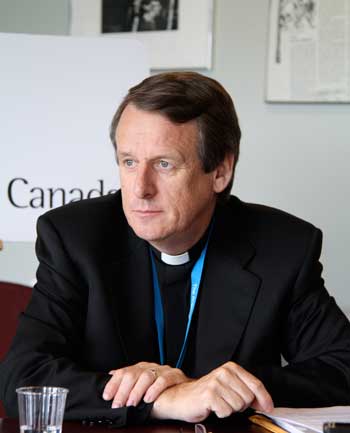 Kearon recognized the contributions of Canadian Anglicans to the Communion, naming many individuals from the church who have shared their gifts by, "giving very freely of their time."
Specifically named was Rev. Canon Dr. Alyson Barrnett-Cowan, Director for Unity, Faith and Order at the Anglican Communion Office, who previously served the Anglican Church of Canada as the Director of Faith, Worship and Ministry. "She has been a remarkable gift to the Anglican Communion," he said, "and you should be very proud of her."
In addition to individuals contributing to the wider communion, Kearon stressed the importance of provinces sharing effective models from their own churches with others. The Primate's World Relief and Development Fund (PWRDF) was named as one such model that, according to Kearon, could be raised up as a model for other national churches.
Focusing on partnership and sharing, the Anglican Communion has recently embarked on four new areas of mission, including:
The formation of an Anglican Relief and Development Alliance. The idea for this alliance came out of discussions at the 2008 Lambeth Conference. "Not to have a new agency," said Kearon, but recognizing that as a communion more could be done together if churches cooperated in this area of mission.
The work of evangelization, "making the gospel known to all people." Work in this area would help make known the many areas of the Communion where Church growth is happening and share those stories with others, "so they can be encouraged and built up also in faith."
The Bible in the Life of the Church Project, where the Communion would look at how the Bible is actually used. "Not how academics think we ought to use it," said Kearon, "but how the Bible really functions in the lives of our congregations and homes."
Using official networks such as Environment Network, Women's Network, the Family Network, and the Justice and Peace Network, along with others, throughout the Communion to facilitate communication and cooperation among Anglicans. A new network, the Anglican Health Network, was recently formed. Different in size and approach, it intends to, "provide forums to exchange experience and best practices, and manage donor and insurance programs to deliver new investments."
Not wanting to avoid the tension that exists within the Anglican Communion, Kearon stressed the importance that, "mission is damaged when Christians disagree and fight."
Time on the agenda of General Synod 2010 for dialogue on the Anglican Communion Covenant has been allocated for later in the week, to which Kearon noted, "expresses our common heritage of faith in terms of our mission commitments."
"We live in a complex world which challenges faith to demonstrate its relevance in transformed lives and changed communities," he concluded. "In close co-operation with our ecumenical partners, the Anglican Communion has put the mission of God a part of all that we do, and I know that the same mission is at the heart of this Anglican Church of Canada."
Over 350 delegates and special guests have come from coast to coast to coast across Canada for this nine-day event, which takes place each triennium. Further details and highlights are available online at www.anglican.ca.
---
Interested in keeping up-to-date on news, opinion, events and resources from the Anglican Church of Canada? Sign up for our email alerts .