Chaplains offer essential support for the growing population of incarcerated Aboriginal women says the Rev. Dale Gillman, an Aboriginal Anglican priest serving on the Interfaith Committee on Chaplaincy, which advises the Correctional Service of Canada.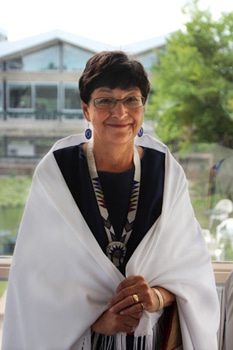 "Chaplaincy is a lifeline for so many who are in there" said Ms. Gillman in a telephone interview. "Without a chaplain to bring a connection to spiritual realities, all you're dealing with is programming. You're dealing with the mental [and] emotional—Western psychology."
Ms. Gillman was responding to a recent government report that revealed that one third of women inmates in federal prisons are Aboriginal even though Aboriginal women make up only four per cent of the Canadian population.
The representation of Aboriginal women in federal corrections has increased 90% in the past 10 years, making them the fastest growing offender population, said the September 2012 report, "Marginalized: the Aboriginal Women's experience in Federal Corrections," commissioned by the Public Safety Department.
The 62-page report calls the current state of representation "nothing short of a crisis." It called for culture- and gender-appropriate programs for Aboriginal women.
In many institutions, Aboriginal women inmates currently have access to Christian chaplains as well as traditional Indigenous practitioners and chaplains of other faiths. This mix will change following a recent federal decision to cancel the contracts of all non-Christian chaplains.
Aboriginal women face a range of challenges while in prison—from menstruation to the effects of Fetal Alcohol Syndrome—said Ms. Gillman.
"Women are often single parents, often recipients of family violence, and experience high incidence of childhood sexual abuse, drug use, and post-traumatic stress symptoms," she said. "And women's issues are different as moms, grandmas, and caregivers."
Ms. Gillman also noted that mental illness is a huge, often unaddressed issue among incarcerated women.
As a member of the Interfaith Committee on Chaplaincy, Ms. Gillman has visited prisons and psychiatric centres across Canada. She has also served offenders and victims through Nehiyawe Pastoral Counselling, a corporation that she founded in her home community of Gordon First Nation, Punnichy, Sask.
Through Nehiyawe, Ms. Gillman has helped connect recently released women with local services and has driven them to court dates. She noted that often Aboriginal women "fall through the cracks" once they are released.
"There was just no one to walk with these people," she said. "In First Nations communities we're limited by our funding and what services we're able to offer our people."
"Because I'm a minister I always offered prayer support."
Currently seven Anglican clergy serve as chaplains in federal prisons, with more at the provincial level. Hundreds of lay Anglicans are involved with prison ministry through organizations like Prison Fellowship Canada.
These ministries are linked to similar Christian work through the Church Council on Justice and Corrections, a national faith-based coalition that promotes restorative approaches to justice and corrections.
---
Interested in keeping up-to-date on news, opinion, events and resources from the Anglican Church of Canada? Sign up for our email alerts .